Enjoying a prime location overlooking the Lancashire Cricket pitch at Emirates Old Trafford, the stunning views enjoyed by the residents of the new Hilton Garden Inn hotel have been framed by high-quality aluminium windows, doors and curtain walling supplied by Senior Architectural Systems and fabricated and installed by specialist T A Anders & Co Ltd.
Through early engagement and collaboration with main contractor Galliford Try, Senior's specification team were able to advise on the most cost-effective solution to delivering a glazing package that met with both the desired aesthetic and performance requirements of architects ICA and the client. Senior was also able to make recommendations to assist with the appointment of a specialist installer, with the contract going on to be awarded to T.A. Anders & Co Ltd.The company, which has extensive experience of working in this sector, also worked with Senior to deliver the glazing package for Fleetwood Town FC's new training ground.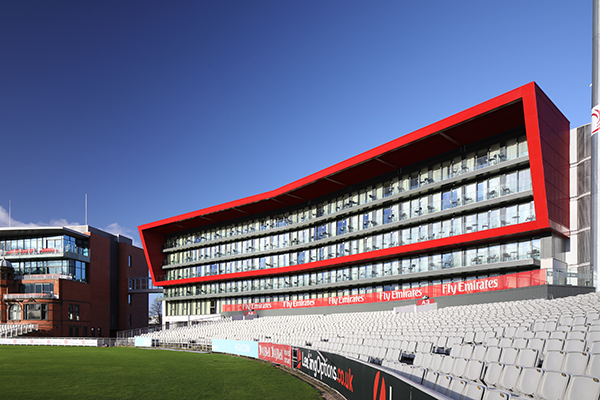 To create the bright and welcoming entrance to the new hotel, Senior's slimline SF52 aluminium curtain walling was used alongside the manufacturer's SPW600 aluminium casement windows and robust SPW501 aluminium commercial doors. The rooms at the rear of the hotel, which directly overlook the cricket ground, feature Senior's patented, thermally-enhanced PURe® SLIDE aluminium sliding doors which open onto individual balconies that can be also be used as private corporate boxes during events at the cricket ground.
Careful consideration was given to the acoustic performance of the glazing package, particularly on the front elevation of the hotel which is located close to a main road. To further enhance the comfort of the hotel's guests, Senior's innovative PURe® SLIDE doors offer exceptional low U-values and improved thermal efficiency.
As Emirates Old Trafford remained operational to host sporting and entertainment events throughout the construction of the new hotel, teamwork was vital to the successful delivery of the project. Simon Scholefield, Senior Architectural System's architectural advisor for the North West region, explains; "We are really proud of this project, not only because of the use of our glazing systems but more so for the fact that it is a great example of what close and early engagement with product manufactures can really achieve.By working with Galliford Try to devise a fenestration specification that was better suited to the project's requirements, in terms of design vision, budget and timeframe, we were able to maximise the benefits of value-engineering.Supply chain collaboration also ensured that our products were installed by aspecialist such as T A Anders & Co Ltd who has proven multi-sector expertise and particular skill in delivering complex glazing contracts for the leisure, commercial and stadia markets."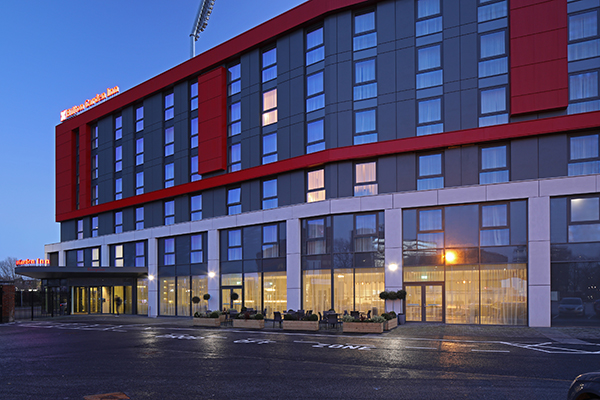 Commenting, David Leyland, Senior Bid Manager for the project at T.A. Anders & Co Ltd added: "We are very proud of securing, installing and completing this project and in creating a glazing package that meets the design and performance criteria set out by the clients Hilton Hotels & Resorts and Lancashire County Cricket Club. The success of the scheme is a result of the positive collaboration between our team, lead by our project manager Carl White, Senior Architectural Systems and the site team of Galliford Try, and we look forward to working together again on future projects."
For more information about Senior, visit www.seniorarchitectural.co.uk or follow Senior Architectural Systems on Twitter, LinkedIn and Facebook.
For more information about T.A Anders & Co Ltd, visit www.andersglass.co.uk or follow on LinkedIn and Twitter
For more information about the Hilton Garden Inn at Emirates Old Trafford, visit www.emiratesoldtrafford.co.uk.