Iconic Dublin landmark, Bewley's Grafton Street, has reopened following a €12million restoration.
Brendan Duffy of Gilligan Architects chose Rockfon® Mono® Acoustic ceilings, "The smooth render of Rockfon Mono Acoustic provides a seamless surface in keeping with the original. In addition, it conceals that it's a modern acoustic treatment."
Research shows that certain sounds can complement taste. However, background noise can overwhelm our senses and impact negatively on how we experience the food we consume.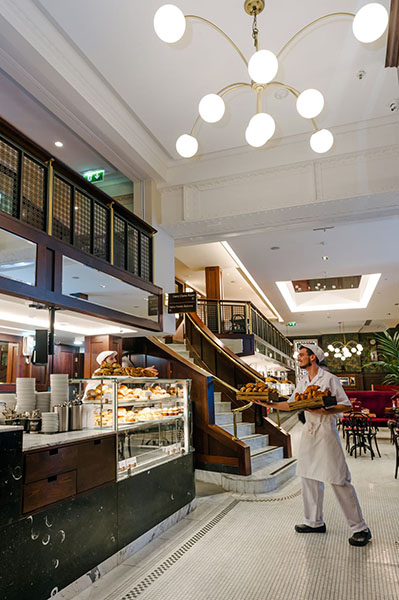 Irwin Carr Consulting, Senior Consultant Acoustician, Malachy McAlister "…tests before and after the installation of Rockfon Mono Acoustic show the acoustic ceiling reduced reverberation times from 1.1 seconds to 0.7 seconds – a 35% reduction."
Bewley's Assistant General Manager, "Before the new ceiling, noise levels could get very high, making it difficult to hear. Now the feel of the café has changed; it is much calmer and more relaxed."
Reilly Ceiling & Drywall installed the ceilings. "Rockfon Mono Acoustic is simple to work with and fits around elements such as lights with ease. There is no product on the market that can match it for acoustic performance and flexibility of design and installation."
We're excited to announce Gerard Clarke as Rockfon's Specification Sales Manager for Ireland. Please contact Gerard on +353 (0)86 0302730 or Gerard.Clarke@rockfon.com