Housebuilders are taking greater control of their supply chains as supply of materials gets stretched, industry analysts Glenigan have revealed.
Manchester-based housebuilder Urban Splash has bought the loss-making Building Systems business from materials group SIG.
Urban Splash chairman Tom Bloxham said: "[This] purchase is a way to vertically integrate our business and give us control of the production of our houses."
Building Systems had revenue of £9.2 million in 2016 but lost £5.7 million and Urban Splash paid just £1 in a deal which includes a factory employing 70 staff at Alfreton in the East Midlands.
Persimmon, which already has its own timber frame operation, Space 4, and a manufacturing plant in Harworth with capacity to produce 80 million bricks a year, will now start manufacturing other materials.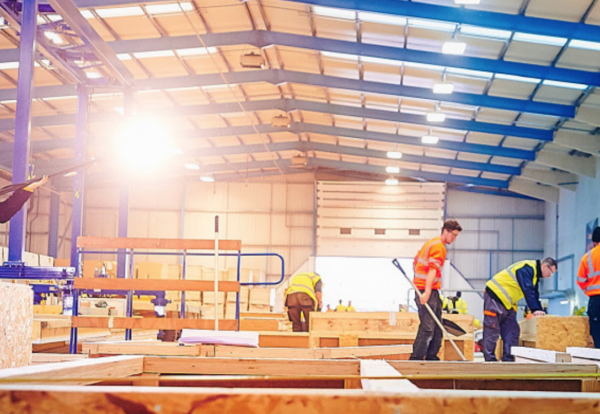 Persimmon acting chairman Nigel Mills said: "We have now taken the decision to manufacture roof tiles and expect to establish a new plant at Harworth during 2018 with the intention of commencing group supply the following year."
This month, a 25,000 sq m factory opens in Harrogate built by Ilke Homes, which is a joint venture between housebuilder Keepmoat and offsite specialist Elliott Group.
Ilke has recruited 150 factory workers and hopes to build between 300 and 350 homes in 2018.
The workforce could rise to 800 people by 2020 or 2021 if a target of selling 2,000 homes a year is reached. In the long-term, Ilke hopes to sell 5,000 homes a year by 2023.
Ilke will transport the modular homes across the UK with many going to social housing but private housebuilders are also expected to be clients. These moves are being replicated across the industry.
Legal & General opened a 550,000 sq ft factory in Selby last year to manufacture offsite housing in Selby, while Ashley House took majority control of F1 Modular, the offsite business that is the only modular contractor to hold a place on the local government LHC National Framework NH1.
Taylor Wimpey recently warned: "Availability of materials is generally in line with demand but there remain pinch points with key products such as bricks, blocks and roof tiles. The cost of these key products has risen significantly and whilst other material costs have been stable in 2017 we are experiencing more cost pressure coming into 2018."
Earlier this year, Lloyds Bank's latest annual housebuilding report revealed that 68% of housebuilders are investing in modular housing and 56% are putting cash into panelised systems of construction.
According to the Lloyds' report, average investment in new building techniques by housebuilders now comprises 24% of turnover compared to 20% five years ago.
Glenigan's economics director Allan Wilen commented: "These changes are because housebuilders are concerned about their margins.
"Skills shortages are endemic and the threat of tariffs when the UK leaves the European Union both loom large and bigger housebuilders are likely to explore similar deals going forwards."
According to the Builders Merchants Federation, 78% of construction products originate in the UK and the balance of 22%, notably timber and tiles, are sourced from abroad. Recent industry changes suggest that housebuilders may try to tip this ratio even more in favour of UK production.
To find out more information, please click here