Modular construction specialist Elite Systems is bringing its bespoke modular buildings to ecobuild, held at ExCeL London from 6thto 8th March.

The off-site construction specialist is giving visitors to its stand, F43, the opportunity to learn more about its fully modular eco-classroom concept, and will reveal the first details of the company's bespoke modular housing prototype.

Designed in response to increasing demand for building solutions with a lower carbon footprint, Elite's eco-classroom features a built-in rainwater harvesting system, and solar PV panels. Elite has also specified more low VOC materials than typically used in modular or traditional construction, improving the overall health of the concept building.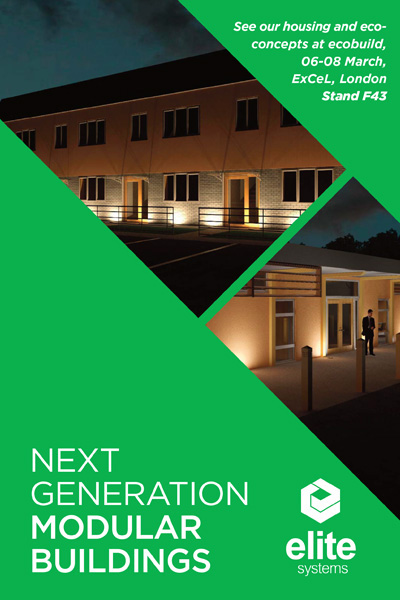 The concept - which is also suitable for use as a healthcare building, sports pavilion or office - features solar shading and carefully-positioned triple-glazed windows to improve ventilation and reduce the need for air conditioning.

As well as boasting the best eco credentials, the classroom concept is designed to be aesthetically impressive, with higher ceilings, an attractive curved roof, and sustainably-sourced exterior timber cladding.

Elite Systems has also developed its first modular house prototype, designed to demonstrate the possibilities of applying the company's custom-made approach to off-site construction to the residential sector.

Elite Systems has a strong record of delivering cost-effective, high-quality buildings for the education, healthcare and commercial sectors.

Unlike traditional building projects, off-site construction typically requires just a few weeks on site - around 75 per cent of the building is manufactured in Elite Systems' specialist factory, while the company undertakes groundworks on-site. Once on-site, Elite's installation team connects the building to utilities and, if required, finishes the internal decoration.

For more information on Elite Systems visit elitesystemsgb.co.uk or call 01274 873 232