Mighton Products has boosted its link with paint specialist Anker Stuy with the launch of a new dedicated paint and stain catalogue, showcasing the much-extended range that has resulted from their successful partnership.
The range, now branded Mighton Ankerstuy, has more than trebled in size with not only an extended palette of its existing Exterior colours but also the new addition of Interior and Specialist coatings. All products in the range offer ease and consistency of application, fast drying, exceptional durability and sustainable performance. These characteristics allow the company to offer impressive guarantees of up to 25 years on their range of coatings for windows, doors, cladding and staircases.
As well as details and colour charts of all the ranges and finish options, the 48-page catalogue now has much more technical and usage information, plus more details on the key products in the range.
Also, along with the 2018 edition of Mighton's main catalogue, it has been made easier to navigate, with the introduction of icons guiding readers to clear and simple colour-coded sections inside.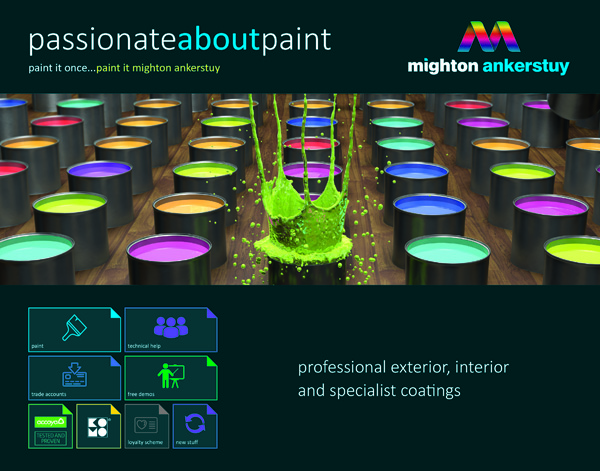 Mighton Chairman Mike Derham said: "This is not just a new catalogue but a source of masses of useful information on choosing and using the Mighton Ankerstuy range.
The extended Exterior range now includes 25 standard opaque and eight standard transparent colours, all tested and proven for use on Accoya® products. These are now joined by 20 standard Interior colours and a Specialist range of opaque and transparent stains.
All Mighton Ankerstuy paint products, including primers, undercoats and top coat systems, are certified by KOMO - widely regarded as the leading accreditation body in Europe for testing and accreditation of products for the construction industry.
Mike Derham concluded: "We have always offered a great colour-matching service, but now, with this much expanded choice of options, customers are able to choose from the full range of paints and stains, all from stock."
To learn more about the Mighton Ankerstuy range or to order a new catalogue visit www.mightonproducts.com or call 01223 497097.