National roofing and waterproofing experts, Langley Waterproofing Systems Ltd, has helped London's largest high school, and the third largest in the UK, Kingsbury High School, refurbish its roof ensuring it meets the highest standards.
Kingsbury High School approached specialist consultants, Capital Property and Construction Consultants (Capital PCC), to refurbish its facilities and help provide improved energy efficiency and weatherproofing for all its buildings. Capital PCC called upon Langley to carry out a complete survey of the school's existing 9,000m² roof system.
Langley compiled an in-depth report document detailing the findings from the condition survey and recommendations for improvement works. The report allowed Langley to identify solutions to ensure the school was compliant with building regulations and highlighted complications with the school's current roof drainage system which required a full redesign of each roof area.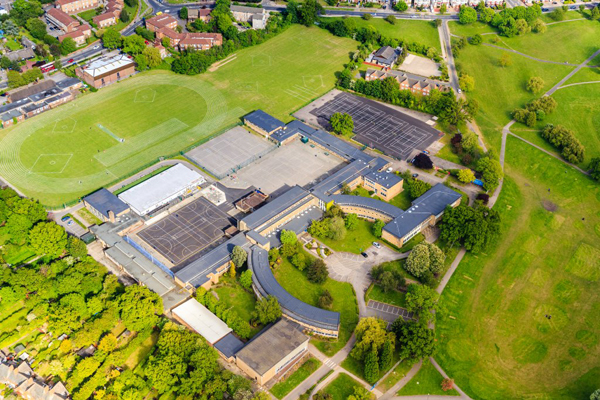 Problems with the existing roof included ineffective insulation, defects in asphalt surfaces and cracks and interlayer blistering. The survey found evidence of a long history of waterproofing issues across the roofs due to problems with the drainage system and drainage patterns of the roof which caused flooding during heavy rainfall.
Split into two areas – Bacon Lane and Princes Lane – Langley worked closely with Capital PCC, and Langley approved contractors, Breyer Roofing to complete the first phase of the project on the Bacon Lane site – an area totalling 6,000m². The roof's unusual architectural design, which included a central block with two curved wings coming forward, meant that every roof was individually designed to accommodate the variation between the different roofs and remedy the drainage issues each roof presented.
Langley's technical team were on hand to deliver support and advice throughout the project, including weekly site monitoring and regular meetings, resulting in a roof that has enabled the school to retain more heat, thanks to improved insulation.
Langley's proud history of technical knowledge and expertise within the education sector means we can select the right system for your school project utilising our extensive range of BBA-approved roofing systems.
Our experts offer free technical advice including bespoke specifications, building reports, condition surveys, 5-year action plans and funding support to assist you from conception to completion. Our design and planning consider your specific needs, working with allocated time frames, minimising term-time disruption and adhering to budget constraints to give you complete peace of mind.
For more information please contact Langley on 01327 704778 or visit there website at www.langley.co.uk/