High performance windows, doors and curtain walling by CMS Window Systems have played a key role in enabling Church Lukas architects and main contractor GRAHAM Construction to deliver an eye-catching new 330-unit student accommodation building in the heart of Glasgow.
The £20 million Elgin Place development at 240 Bath Street for iQ Student Accommodation takes its name from the former Elgin Place Congregational Church which previously occupied the site before it fell into disrepair and could not be saved. The new fourteen storey building that replaces the once iconic church features a 'glass box' structure for the upper floors to provide a contemporary new addition to Glasgow's skyline.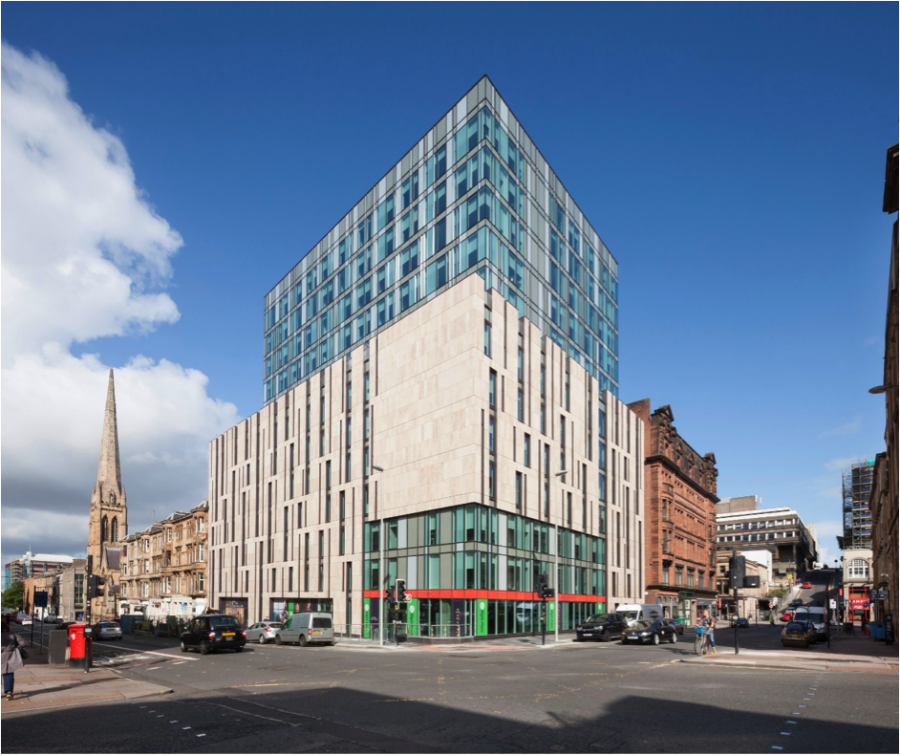 CMS Window Systems, who are one of Scotland's leading curtain walling, window and door designers, manufacturers and installers, were appointed by GRAHAM for the Elgin Place project on the strength of their track record in delivering high quality solutions for student accommodation projects – both purpose-built and refurb projects. The 25-week, £1.4 million fenestration programme saw CMS fabricate and install a combination of aluminium curtain walling screens, doors, a rooflight and 160 windows.
Elgin Place provides 330 rooms in a variety of configurations over 14 floors with a large ground floor retail space. The single-occupancy studio rooms and cluster flats of four to eight bedrooms range from 14-18 sq. m in size, with five percent of the overall accommodation capacity specially designed to cater for students who are physically impaired. All standard rooms feature facilities for those with either hearing or visual impairments too.
The communal social and amenity spaces are focused around a central atrium, with the first floor housing an enclosed double-height performance/entertainment/sports space, and the seventh floor featuring a central focal point for student social activity. This includes a lounge area which extends onto an external south facing terrace on Bath Street with extensive green finishes. The basement level houses a laundrette and cycle storage, and an open-topped plant-space features on the roof of the development.
Ensuring the windows and doors provided a quality solution that would perform well in the long term, aesthetically and functionally, CMS applied Metal Technology systems throughout the project. This included Metal Technology System 17 for the eight curtain walling screens and rooflight, with all the windows using Metal Technology 4-35 or 5-35 Hi+ Systems to provide reliable structural integrity, weather performance, thermal enhancement and security.
A number of doors were also incorporated into the curtain walling screens, manufactured using the Metal Technology System 7-20 5-20D System. A more bespoke solution was developed by CMS and Metal Technology for the glass box curtain walling at levels 7 to 13 in line with the architect's vision, which included custom designed mullion caps.
Gary Holmes, Regional Managing Director at GRAHAM Construction says: "The Elgin Place project at 240 Bath Street has given new life to a prominent location in the heart of Glasgow and we're delighted to have successfully delivered it. Working with CMS Window Systems has been crucial in ensuring we deliver the highest quality result for the client and provide generations of students with a comfortable, safe, secure and visually appealing home during their academic years in Glasgow."
Find out more about CMS Window Systems at www.cmswindows.com.