Dr. Schutz UK, the floor care expert, has updated its website to present a fresh, sleek online presence for the brand. The website has been designed as a one-stop-shop for all internal and external floor care products, allowing visitors to recognise the different types of flooring and the relevant floor care product needed an effortless process.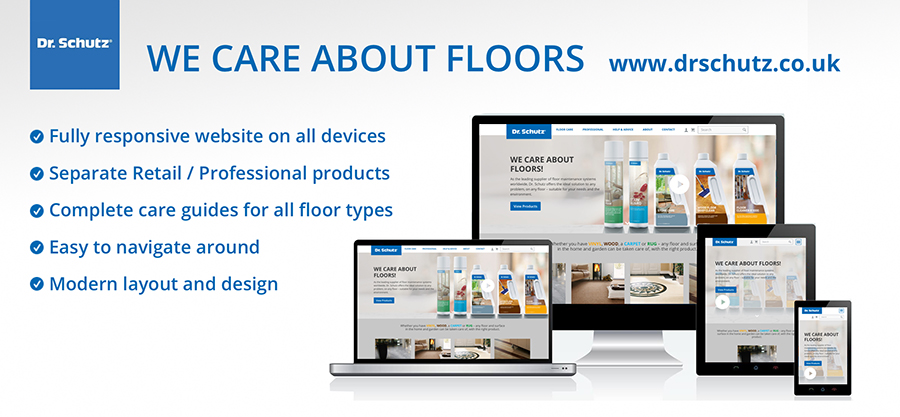 The new website - www.drschutz.co.uk - is easily accessible on the computer and is iOS and Android mobile compatible for use when the move. It provides comprehensive information on the Dr. Schutz UK brand and product line, and offers a variety of downloadable resources, such as catalogues, literature and data sheets. The new website is complemented by a simple navigation menu, which offers a breakdown of flooring by category. There is also a dedicated help and advice section which offers answers to frequently asked questions and a product finder service, as well as informative 'how to' videos.
Dr. Schutz has been the leading brand for the protection and maintenance of flooring for almost 60 years. Providing quality solutions for professional flooring contractors, retailers, architects and homeowners, Dr. Schutz UK products cater for a variety of flooring projects. From carpet, rugs and wood to vinyl and laminate flooring, Dr. Schutz UK offers the perfect after care solution.
Dr. Schutz UK is passionate about purchasing quality raw materials and takes great care to ensure every product offers a premium level of satisfaction and is environmentally friendly. With the motto, "We care about floors", the newly refurbished website perfectly demonstrates this message and provides the perfect platform for users of Dr. Schutz UK products.
To take a look at the newly launched website and for more information about Dr. Schutz UK and its product range, visit www.drschutz.co.uk. For further information, get in touch with the sales team on sales@drschutz.co.uk.