The availability of LowBoard panels, as an integral part of Omnie's offering to the market, has made the multiple benefits of underfloor heating accessible to property owners and building professionals addressing retrofit and other challenging situations.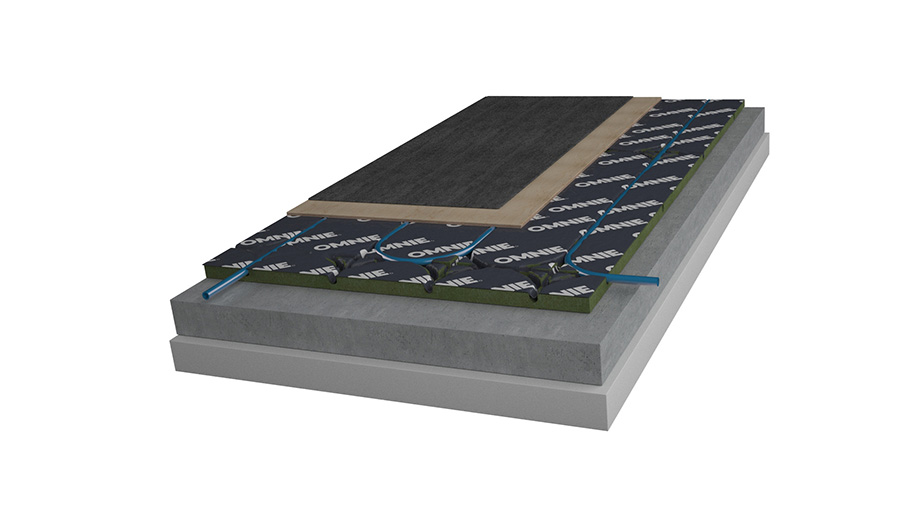 The low profile panels have been used extensively by heating companies, property developers and general contractors, to introduce energy efficient heat delivery, where other UFH systems simply would not fit. The routed timber boards feature an aluminium layer bonded over their surface and are installed over the existing floor construction, then covered by a 6mm sheet of ply or final floor finish completing the installation.
LowBoard comes in 15mm and 22mm thicknesses as well as a specialist 26mm acoustic version to assist with attenuation. The underfloor heating panels are floated or mechanically fixed over a flat timber or solid sub-floor. The panel has a multi-directional design, offering stability and simplicity when being set out across the ground or upper floor construction also making the installation of the heating pipe rapid and flexible enough to suit complex room shapes.
Not only does LowBoard offer a completely dry system, the inclusion of the foil diffuser further speeds the warm up time without eating up headroom or requiring expensive alteration to doors and skirting boards.
The in-house manufactured Omnie underfloor heating systems – which also include Torfloor and FoilBoard – provide an easy to install means of distributing warmth throughout a property and, correctly specified, can enable condensing boilers, heat pumps or other renewable technologies to operate at higher efficiency levels than using conventional radiators.
Underfloor heating also helps create a healthier indoor environment, with a more even heat profile within the occupied spaces, while keeping the walls free from unsightly radiators.
Omnie offers a full technical design and support service to consultants and contractors, from inception to delivery and beyond.