Sports flooring specialists CONICA has risen to new heights, supplying an impressive running track on top of London's award-winning Whitecollar Factory.
The newly refurbished office building houses globally renowned brands including Adobe, comparethemarket.com, Spark44 and Capital One, and is already firmly established as an award-winning example of creative contemporary design, securing BREAM 2014 Outstanding status for sustainable building in design and function, as well as the MIPIM UK Visionary Building of the Year award 2016.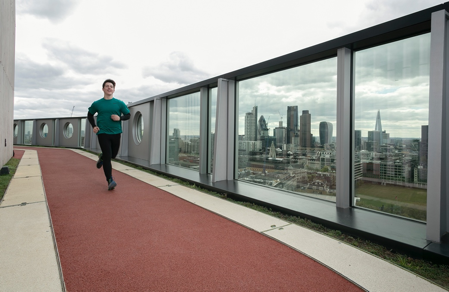 Artist's impression. Courtesy of Allford Hall Monaghan Morris.

Designed by architects Allford Hall Monaghan Morris, the building overlooks Old Street and the technological hub of London's Silicon Roundabout. The futuristic design extends across every inch of the building, culminating in a running track encircling the top of the building and a roof-top leisure area offering panoramic views of the city.

With its height and exposure, making sure the unique sport and recreation areas don't degrade with wind and sun damage was a core concern. To combat this, SEL Environmental Ltd's SELSports division, the contractor managing the roof and track area, worked closely with CONICA to lay 290m2 of its red CONIPUR EPDM over a resin bound gravel base. To ensure effective drainage, the CONICA surfacing was overlaid on SELSport's sub-base replacement units which are an innovative rooftop solution allowing water to be trapped and stored without the need for pumps or irrigation – ideal in a dense urban area with limited greenspace.

"Exposure to the elements in a project like this is unavoidable," said Michael Davis, CONICA's representative on the ambitious project. "So, making sure the surfacing was able to withstand strong winds and the heat and UV exposure from the sun was crucial. With its strong adhesion and flexibility, CONICA's single-layer EPDM was an ideal solution to this.
"We also included an aliphatic binder to protect against UV rays to withstand colour degradation over time – meaning the track will still be vibrant and in optimum condition for years to come, with minimal maintenance."

Chris Stephenson, SELSports Division Manager, said: "Logistically, every aspect of the installation posed a challenge. Every element of the build needed to be strictly monitored and tailored to ensure it would fit in a service lift on pallets, with weight being a constant issue – rolls of geotextile membrane, for example, were cut to fit into the space available in the lift, and aggregate had to be supplied in small 25kg bags."

"It was worth it as we've had outstanding feedback from the client. They are delighted with the new leisure and track areas and for those using the facilities it's certainly a run with a view!"

For more information about CONICA's collaboration on this innovative project, visit www.conica.com or for roof top sports facilities visit www.selel.co.uk.