There are many types of buildings but they are virtually all used by people. Commercial, public, education, industrial, travel or entertainment, they all need handrails.
Handrails therefore are an essential requirement both inside and outside the building or structure. It may be a functional handrail such as entrance ramp, balcony or fire escape, or it may also be made a feature which helps to establish the character of the building.
The development of LED lighting over recent years has opened new possibilities for designers when considering the aesthetics and function of handrails.
We perceive objects by the light reflected from them, therefore it makes sense to illuminate the stairs or walkway highlighting any obstacles or deviations. Individual LEDs fitted into the handrail can either give "pools of light" to pick out specific points such as changes in level, or a continuous "river of light" highlighting the complete walkway. They can even be fitted into curved handrails which may be the requirement for a main entrance stair with brass or stainless steel handrails fitted on to structural glass balustrade for example.
Individual LED's direct light to where it is needed most, namely the stairs or walkway. This gives accurate light placement resulting in minimum light scatter and light pollution. The discreet LED's dramatically reduce glare, highlighting steps and providing low level corridor or walkway lighting.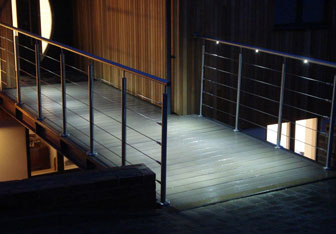 The Illumine product range from SG System Products Limited, handrails and balustrade specialists, gives complete design flexibility. Stainless steel, brass or "warm to the touch" handrails are all available with individual LED Inserts fitted directly into the core of the tubular handrail. The spacing of the LED's can be varied depending on the light level required.
Stargard is the original "warm to the touch" handrail which has 4mm thick pvc sleeved over galvanised tube after fabrication. This is available with the LED inserts and has been used on some of the piers for the river Thames water taxis in London. It is also suitable for railway footbridges where normal lighting may give a light pollution problem.
The Illumine handrail range consists of "warm to the touch", stainless steel and brass handrails all of which can include LED INSERT lighting.
Each LED unit consumes only 1 watt of power and the cabling is fed through the actual handrail which means no surface conduit or ground excavations are needed. Walkways through poorly lit areas can benefit from the use of illuminated handrails, and as each light unit is securely fitted into the handrail they also have excellent vandal resistance.