A £60 million 'new concept' motorway services area being developed on the M1 near Leeds will be safeguarded by Visqueen gas protection systems when it opens in January.
The Leeds Skelton Lake MSA occupies a 30-acre site and is being delivered by owner and operator Extra MSA Group.
Some 4,000 square metres of Visqueen Gas Barrier have been installed, providing protection for the main food court-style facilities building and a 100-bed hotel that connects to it.
In addition, 1,500 sq metres of Visqueen Gas Vent Mat have been laid beneath the hotel slab to enable ground gases such as radon, methane, and carbon dioxide to dissipate safely to atmosphere.
The gas protection membrane and venting were installed by PRS (Professional Remedial Services), of Manchester.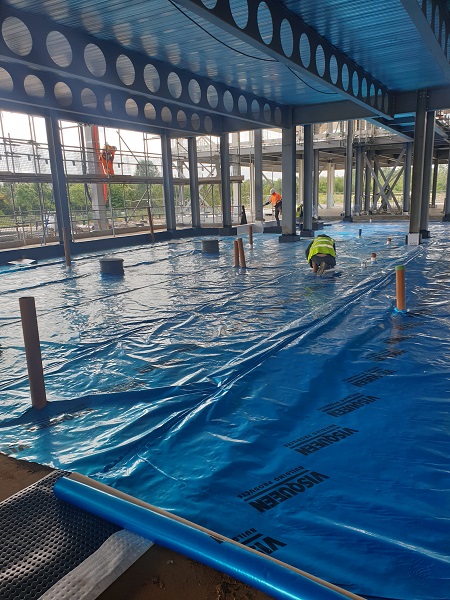 Alex Birtles, Junior Building Surveyor with PRS said: "With such a large area to cover we used hand-held heat welding machines to weld the separate sections of gas membrane together so they formed as one.
"This creates a better seal, along with delivering a neater looking job for our client. Our NVQ Level 2 gas membrane installers have a huge amount of experience using all the materials, so it was very straightforward for our technicians.
"If the gas protection solution is not installed correctly, then potentially harmful gases can ingress into the building and cause harm to human health."
The gas protection system for the MSA was designed by Visqueen's Technical Specification Manager Cameron Vauvelle-Don.
Alex Added: "We engaged with Visqueen because their national technical support is informative, thorough and in-depth, it's simply industry leading.
"The gas protection training course provided by Visqueen, making us a Visqueen preferred installer, helped consolidate the team's previous experience, while ensuring a neat finish to their work and speeding up the installation time."
Visqueen Gas Barrier is a multi-layer reinforced polyethylene membrane with an integral aluminium foil that is approved for use in British Standard BS8485: 2015+A1:2019 compliant applications.
In addition to the gas protection membrane, the Visqueen Gas Vent Mat is a geo-composite void former specifically designed to manage the problem of high levels of gas concentrations underneath buildings.
Cameron Vauvelle-Don said: "The large scale of this development, and the fact that once opened it will be visited by thousands of members of the public each day, meant there was no room for error.
"The technical demands, and the project's fast pace, meant that every fine detail had to be double-checked to ensure that the long-term durability and suitability of the solution met the client's needs and protected the public from harmful ground gases."
The "new concept" MSA has a strong focus on the environment and sustainability. The 'food court' building features an undulating 'living green roof' and includes an RSPB visitor centre and upper-level viewing deck overlooking Skelton Lake and surrounding countryside.
Walking routes, cycle paths and nature trails will also pass across it linking to a "green corridor."