Aberystwyth University has slashed gas consumption and costs by 50% at its student accommodation buildings since replacing ageing boilers with high efficiency Remeha Quinta Pro condensing boilers.
Halls of residence have a high demand for heating and hot water, so it's important that the heating system works as efficiently and effectively as possible to reduce energy costs and environmental impact.
When the time came to replace the existing ageing boilers in the four plant rooms serving the Penglais student accommodation buildings, reliability was a key requirement for the University.
Further considerations were the need to complete the project in a fixed four-week period and standardisation of the heating equipment for easier future operation, maintenance and servicing.
Heating engineers Aber Heating Ltd have been working with the University for over a decade, during which time they have gradually been replacing all the boilers to Remeha products.
To meet the heat demand at the halls of residence, Sion Jenkins, Project Manager at Aber Heating, installed two Quinta Pro 65 condensing boilers in each plant room.
Sion commented: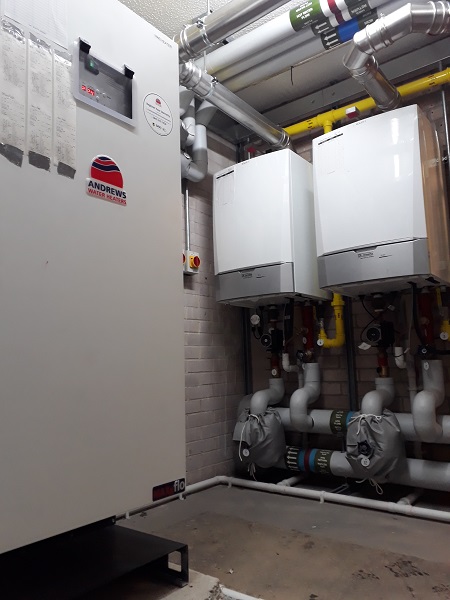 "We recommend Remeha heating products for their quality and reliability. The boilers have been designed for improved ease of installation, which helped us to meet the challenging schedule on this project. And, importantly for whole life costing and long-term operational savings, spare parts and ease of servicing have also been addressed. The Quinta Pros are lovely to work on – you can't fault them."
Condensing boilers are the most efficient of all boiler technologies. Remeha's Quinta Pro 65 condensing boilers deliver gross seasonal efficiencies of up to 98% and ultra-low NOx emissions, ensuring greater reliability and improved comfort levels.
Completing the energy-efficient system design in each of the four Penglais plantrooms is an equally energy-efficient Andrews Water Heaters MAXXFlo 90/200 condensing water heater. With recovery rates of up to 1,920 litres of hot water per hour, this provides a continuous supply of instantaneous hot water to satisfy the hot water demand.
With all four boiler rooms refurbished within the tight timeframe, the heating upgrade at Penglais Campus has been an unqualified success.
"The project went well," said Sion. "The students are benefiting from the more effective and reliable heating and hot water service, while energy data from the University has revealed a 50% reduction in annual gas consumption and costs in the buildings served by the new Remeha boilers."