Aberystwyth University has reduced gas consumption by 46% since refurbishing the heating plant serving its William Davies research centre with energy-saving Remeha condensing boilers.
The ageing boiler plant at the William Davies Building, home to the internationally-acclaimed Institute of Biological, Environmental and Rural Sciences (IBERS), had become both unreliable and inefficient. Maintenance and servicing of the dated equipment was also increasingly difficult due to discontinued spare parts.
Following the University's tender procurement, the contract to refurbish the system was won by Aber Heating Engineers Ltd.
Three Remeha Gas 310/610 Eco Pro 6-section boilers were specified to replace the failing boiler plant due to their high gross efficiencies of 98.4%, ultra-low NOx emissions and easy installation.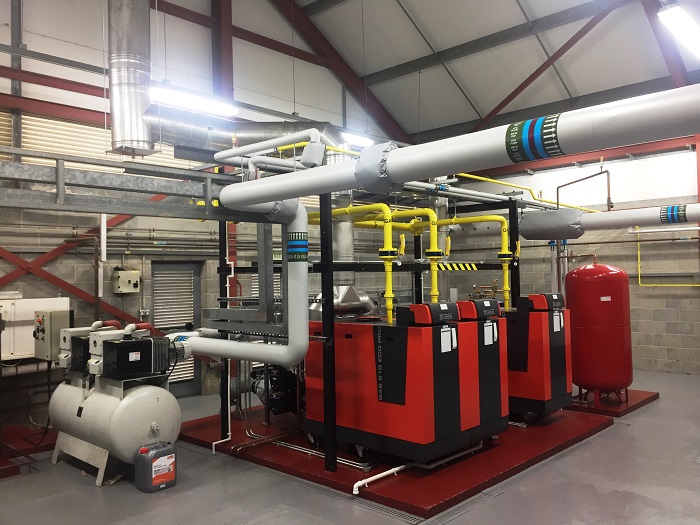 Sion Jenkins, Project Manager at Aber Heating, said: "The key aim of the University was to deliver reliable, energy-efficient heating and hot water throughout the Building, while reducing emissions in line with their environmental commitments. The Remeha boilers, which we always find to be reliable and high quality, allowed us to do just that."
A condition survey prior to beginning work on the project had revealed poor water quality and high levels of particles, which can negatively affect boiler performance. To address this, Aber Heating installed a water treatment system to provide continuous filtration for low running costs and a limited maintenance regime.
A new Building Management System (BMS) has also been fitted to enable accurate control and operation of the boilers to further maximise energy savings.
With the boilers fully operational since last summer, the University is delighted with the end result. Gas readings at the William Davies Building indicated a fall from 469,813 kWh during the six month period from August 2016 to February 2017 to just 254,756 kWh in the same period the following year. This equates to an outstanding 46% cut in gas usage with an associated drop in fuel bills and emissions. At the same time, comfort levels have risen due to the improved reliability and efficiency of the new Remeha boilers.
Aberystwyth University is renowned for its cutting-edge research which is an integral part of its mission and work. With the installation of advanced Remeha Gas 310/610 condensing boilers at the William Davies Building, the University now provides fittingly cutting-edge, energy-efficient 21st century heating for its students and staff.
Last word to Sion: "The installation went extremely well with heat reinstated ahead of the tight schedule required by the University. All in all, a great job for a happy customer."