A global leader in world finance, the UK head offices of The Bank of New York Mellon Corporation (BNY Mellon), located in the prestigious 160 Queen Victoria Street building (160 QVS), London, have been recently refurbished.
Partitioning expert Style was contracted to inject a high level of flexibility into the space, encouraging a positive environment by allowing the easy creation of personal work areas, divided meeting rooms and brainstorming hotspots.
In the Thames Room, a large C-shaped Dorma Hüppe Variflex glass moveable wall offers 52dB acoustics, fully glazed pass doors and a stylish crittall-effect. Whilst Style's unique working walls are installed in the Innovation Centre.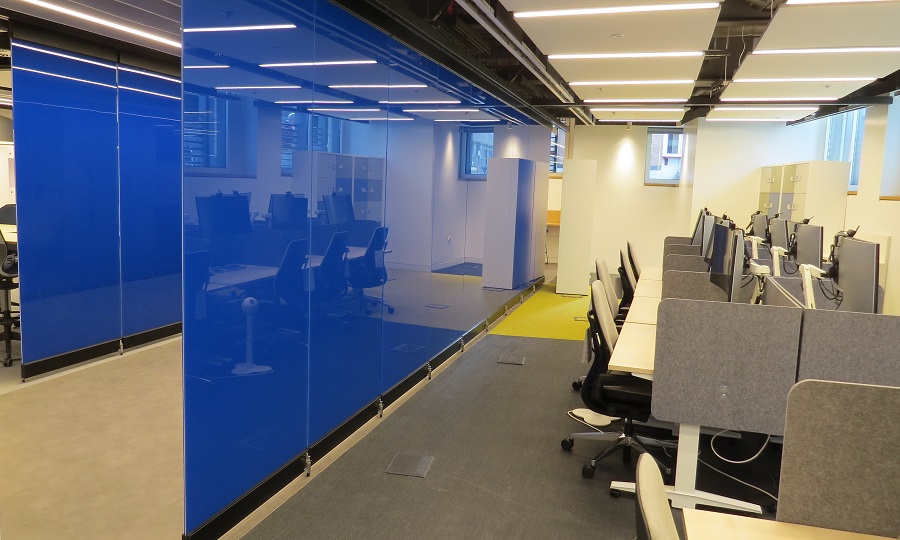 Finished in a striking blue painted glass, the individual panels spin and slide along ceiling tracks, allowing freedom to segment the space into a wide variety of configurations.
Elsewhere, a 59dB semi-automatic Dorma Hüppe Variflex solid moveable wall finished in contemporary fabric-wrapped panels, abuts a fixed glass wall that matches the crittall-effect of the glass Variflex, providing seamless interior design.
As the world's largest custodian bank and asset servicing company, BNY Mellon is the main occupier of 160 QVS – a building which occupies an entire block and which actually has four separate postcodes!The newly refitted corporate headquarters comprises of both offices as well as a trading floor, delivering a flagship workplace fit for the future.
Working with architects, T P Bennett and contractors ISG, Style was specified to create flexible space at BNY Mellon's London offices using a blend of solid moveable walls, glass moveable walls and Style's innovative working walls – designed for agile, collaborative space.
"This is a great example of using various types of moveable and working walls to give different types of flexibility in various meeting areas and collaboration zones," said Michael Porter, sales director at Style South.
"It also highlights Style's key strengths in the market in terms of our working walls and fully glazed pass doors, which are unrivalled and highly unique."