With the UN projecting that 68% of the world's population will live in urban areas by 2050, the need for comfortable living and working environments in the heart of cities is also on the rise.
Alongside this, greater levels of sustainability must also be achieved, pushing the boundaries of modern architecture to ensure performance and aesthetics are never compromised.
As John McComb, Director Technical Services at Reynaers Aluminium discusses, building materials play a critical role in creating this balance and delivering desirable city living.
As the buildings of our cities continue to evolve to accommodate the rapid rate of urbanisation, it is critical that the very fabric of these buildings plays its part, not only in their visual appearance and strength, but also in how they stand up to the requirements of modern-day city living to provide greater levels of sustainability and occupant wellbeing.
Having evolved to meet the requirements of today's lifestyles, glass has become a highly desirable construction material and now plays an integral role in modern architecture, transforming a building's character and connecting it with its immediate environment. Buildings such as The Shard and The Gherkin are fantastic examples of how glazing is now used to make buildings completely unique and transform the experience of those living and working in them.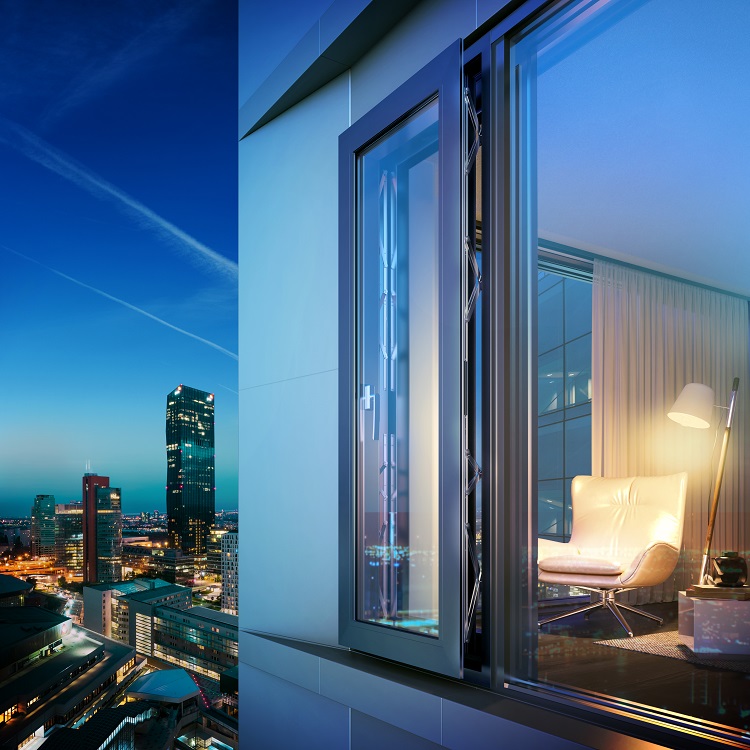 Just as glass has become more important in modern construction, innovations which facilitate greater levels of sustainability are becoming more heavily incorporated into the very fabric of modern buildings. The challenge for architects lies in incorporating these functional characteristics without compromising aesthetics and practicality.
With indoor environmental quality being dependent on air quality and thermal and acoustic comfort, often-overlooked but essential characteristics such as effective cooling and ventilation play a significant role in creating these comfortable spaces. When a room is warm, the natural instinct is to open a window, effectively cooling and ventilating the room. In bustling urban environments, however, the threat of noise pollution often stands in the way of this natural solution. In the past, this has increased reliance on mechanical ventilation systems – and compromised the sustainability of buildings as a result.
For modern urban buildings to maximise the potential of increased volumes of glazing, while simultaneously incorporating natural ventilation systems to improve a building's sustainable credentials and deliver comfort and practicality for occupants, the choice of materials is critical.
Providing superior performance where acoustics are concerned, aluminium continues to be a popular material in modern architecture which maximises air tightness through its intricately designed profiles. Alongside this, aluminium enables architects to fulfil their aesthetic vision, balancing slim sightlines with greater strength and versatility, in addition to delivering essentials such as safety and security to projects.
But, as trends like urbanisation continue to heighten the requirements of buildings, this essential material must also evolve. For Reynaers, that has seen the development of MasterLine SoftTone which facilitates effective natural ventilation, while limiting noise ingress from the surrounding urban environment.
Equipping buildings with natural ventilation and, therefore, improving their sustainability through a reduced reliance on mechanical solutions, SoftTone utilises a carefully designed interface between the frame and sash to enable natural ventilation while limiting noise. In practice, that enables windows to be opened for effective ventilation, without occupants having to suffer excessive noise from the bustling urban environment.
As we look to a more sustainable future for our urban living and working requirements, the buildings which define our skylines must be designed to maximise natural ventilation. Windows are the natural starting point in this journey, and to achieve the desired results, engaging the technical expertise of material specialists is imperative to ensure a solution which delivers on design and performance.
For further information, visit www.reynaers.co.uk