Washroom designer, manufacturer and installer, Washroom Washroom has extended its FENIX NTM laminate range to offer the fashionably matt finish in a range of styles.
The high specification FENIX laminate finish is now available as part of the company's Marcato toilet and shower cubicle range. Not only that, but its popular Alto FENIX toilet cubicle is now available as a shower and changing cubicle option too, to complement the existing range.
Manufactured in Italy by Arpa Industriale, FENIX NTM uses the latest nanotechnology to create a highly durable, tough acrylic resin surface. It offers very low light reflectivity, creating an extremely opaque super matt surface which is also soft to the touch. It's anti-fingerprint, hydro repellent and resistant to scratches and abrasion, boasts enhanced anti-bacterial properties and is thermally self-healing – all of which makes it the ideal choice for commercial projects where a high performance and stylish finish is required.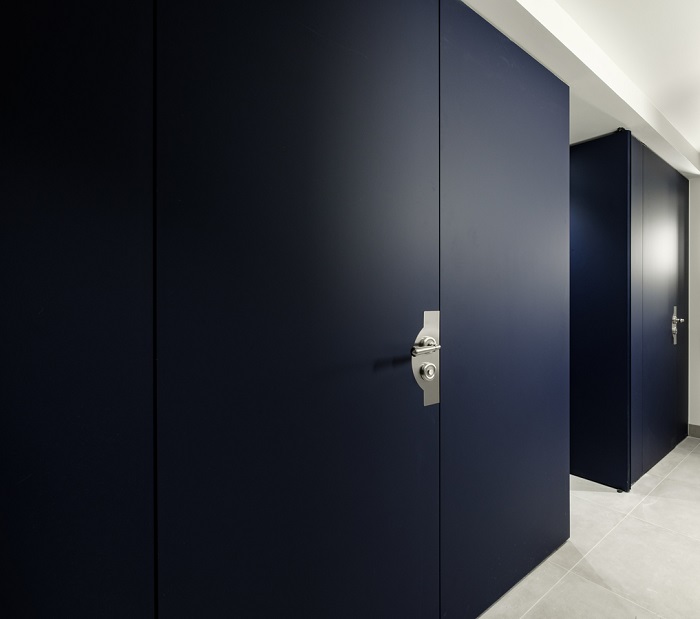 Since the full height flush front Alto FENIX toilet cubicles first launched they've proved popular, especially in the office and high end leisure sectors. By extending the FENIX range to Washroom's highly engineered Marcato cubicles, in the same choice of 15 colours, specifiers can opt for a different look with the same fantastic performance attributes.
Trevor Bowers, director at Washroom Washroom said: "We've found that as staff shower and changing areas have become increasingly commonplace in offices, our clients are keen to create a space that stands out, with many more like a luxury leisure club or gym than an office facility.
"Being able to specify FENIX shower cubicles is an ideal way to create a luxurious space that is still durable enough to withstand a lot of regular use."