Newfoundland is the latest soaring addition to London's Canary Wharf estate. When complete, the 60-storey residential tower being developed by the Canary Wharf Group will provide 636 build-to-rent apartments, offering stunning views across the city.
The building features a striking diagrid structure, akin to that used in another famous London landmark, 'The Gherkin'.
Designed by architects Horden Cherry Lee and structural engineers WSP, this aesthetic has been achieved through the use of a structural concrete core supported by a series of steel beams which join together on the outside to form the tower's distinctive diamond pattern.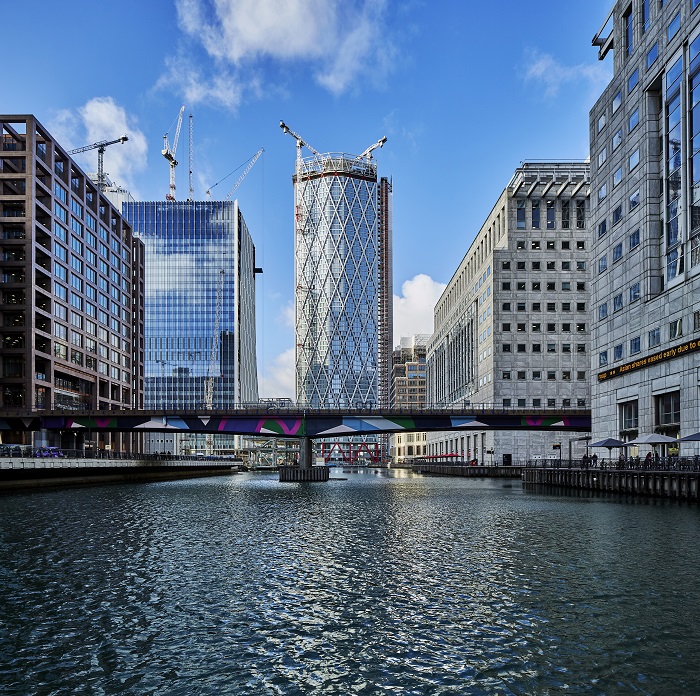 Any residential building over 18 metres requires enhanced fire protection to comply with Building Regulations. Newfoundland's unique design also called for a bespoke passive fire protection system to provide peace of mind for residents while delivering a high-quality rental experience. Promat and installation sub-contractor Sharpfibre worked together to find a solution.
David Harper, technical director at Sharpfibre, explains: "Good building design and maintenance is essential to minimise the spread of a building fire. Passive fire protection systems do this by compartmentalising a building through fire-rated walls and floors and structural protection, which stops a fire from growing quickly, allowing people more time to escape and rescue teams to operate safely.
"At Newfoundland, our brief was to provide up to two hours' fire resistance for the tower's steel beams as a critical structural component. We also wanted a fire protection system that would maximise internal space to deliver the lifestyle Newfoundland's residents expect."
To achieve this, Promat and Sharpfibre specified Supalux – a high performance fire protection board which is non-combustible. David Harper continues: "Supalux not only met the required technical performance but also provided an additional 8mm of space for the floor-to-ceiling heights for each apartment, compared to using standard boards. This extra room is crucial for accommodating building services like air conditioning as well as luxury conveniences such as built-in music systems."
Using Supalux also had the added benefit of allowing the fire protection installation to be completed before the external façade works were finished. David Oram, area sales manager at Promat, explains: "The board is a calcium silicate material, which means that it is resistant to moisture and can be left exposed to the elements. This helps to speed up overall build timetables as the fire protection installation process doesn't have to wait until external works are done."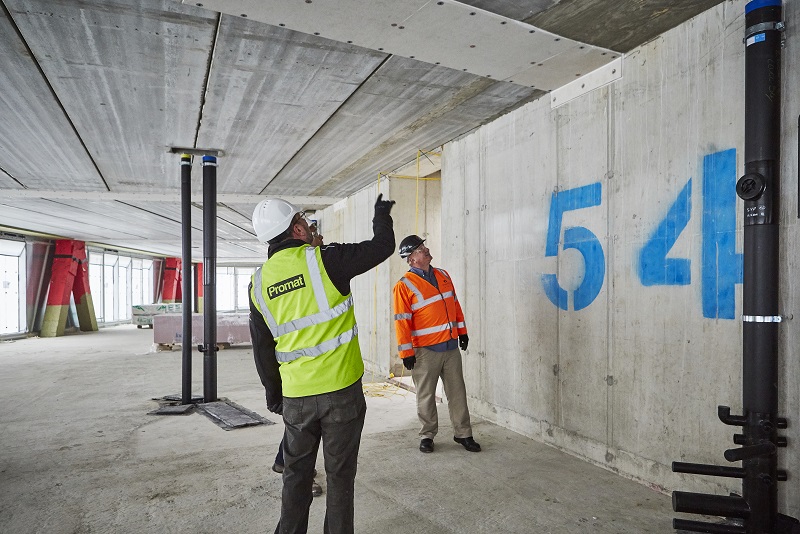 Promat's PROMATECT 250 board was specified for Newfoundland's 60th floor where a robust material was required to compartmentalise the plant systems on its roof. Both Supalux and PROMATECT 250 are supported by test data and certificates from Promat's own Innovation and Technology Centre in Belgium as well as independent third-party bodies.
David Harper adds: "Following the Grenfell Tower fire, we have seen a sharp rise in clients asking for more details on product performance which is a positive shift for the industry. Ensuring that materials are backed up by appropriate test data and accreditation is essential to giving clients and building users peace of mind that they will do the job they're intended for.
"Promat has always led the field in following stringent testing procedures and providing robust performance evidence and it is our policy to only work with materials manufacturers who meet these high standards."
Newfoundland is expected to complete in 2020, providing its new residents with a safe, comfortable and stylish home for years to come.