Forbo Flooring Systems' Flotex Planks collection has been chosen for the renovation of St James Business Centre in Warrington, thanks to its innovative colour palette, as well as its hardwearing, durable and easy to clean characteristics.
The flocked floor covering has been installed in the Lava design throughout the atrium spaces within the building, which is part of Wire Regeneration, a joint venture between commercial property company Langtree and Warrington Borough Council.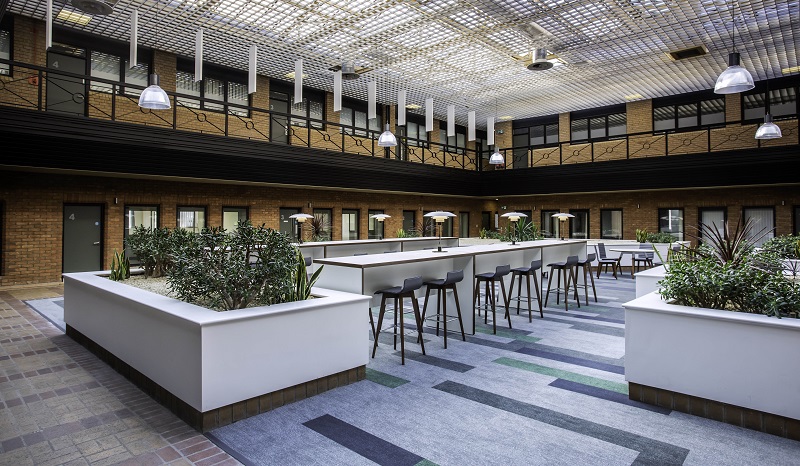 The recently refurbished two-storey building houses a range of offices for many businesses. Throughout the renovation Wire Regeneration was looking to create a refreshing workspace with a real community feel that encourages collaboration between all tenants, starting with the two internal breakout areas.
Stephen Last, Architect at Seven Architecture said: "Wire Regeneration requested an attractive, hardwearing, durable and easy to clean product to replace the existing concrete paving tiles that were in the two atrium spaces on the ground floor. Flotex was the ideal solution as it provided a cost effective alternative when value engineering was required, while the warm aesthetics and soft, tactile nature of the floor really enriches the areas."
Three shades of grey – Tambora, Krakatoa and Pelee – were used as a gradated colour scheme across each atrium, interspersed with a green accent tile in the Nikko colourway for a striking effect. The unique textures and colours of the Flotex Planks collection provide architects the opportunity to explore creative design combinations and define spaces, which has been achieved with real style at St James Business Centre.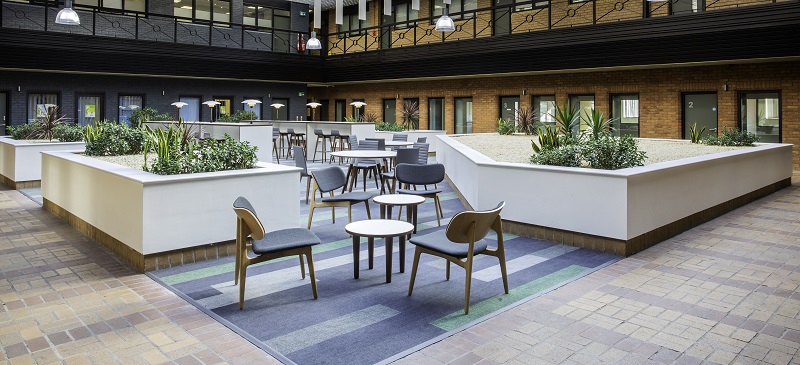 Jayne Furnival, Group Property Director at Langtree, who's head office is also based in the building, said: "Flotex is great and very easy to clean. Tenants enjoy coming out to use the space as informal meetings areas, a place to have their lunch or just somewhere to take a break from their desks. Before the refurbishment, we were 'bringing the outside in' with the concrete slabs but now with the soft furnishings and with the help of Flotex, we have created a very internal and welcoming feel within the whole building for the tenants."
Made with over 70 million fibres per m², Flotex offers a completely unique flooring solution that combines the appeal of a textile floor covering with the practical and hygienic advantages of a resilient. Being phthalate free and holding the prestigious Allergy UK Seal of Approval, Flotex contributes to better indoor environments in which to live, work, learn and play.