Forbo Flooring Systems is proud to announce the launch of its award winning Allura Fusion; a Luxury Vinyl Tile (LVT) collection that uses innovative colouring techniques to create a fresh unique look, with no pattern repeats.
The trend collection, which was recently decorated with the prestigious international Red Dot Design Award, features four plank and three tile designs, with every piece of the Allura Fusion range completely unique. No two planks or tiles are the same, resulting in an organic and truly individual aesthetic.
This is made possible by the innovative manufacturing technique, which combines traditional printing methods with free-flowing, coloured PVC streams to produce the 0.7mm wear layer.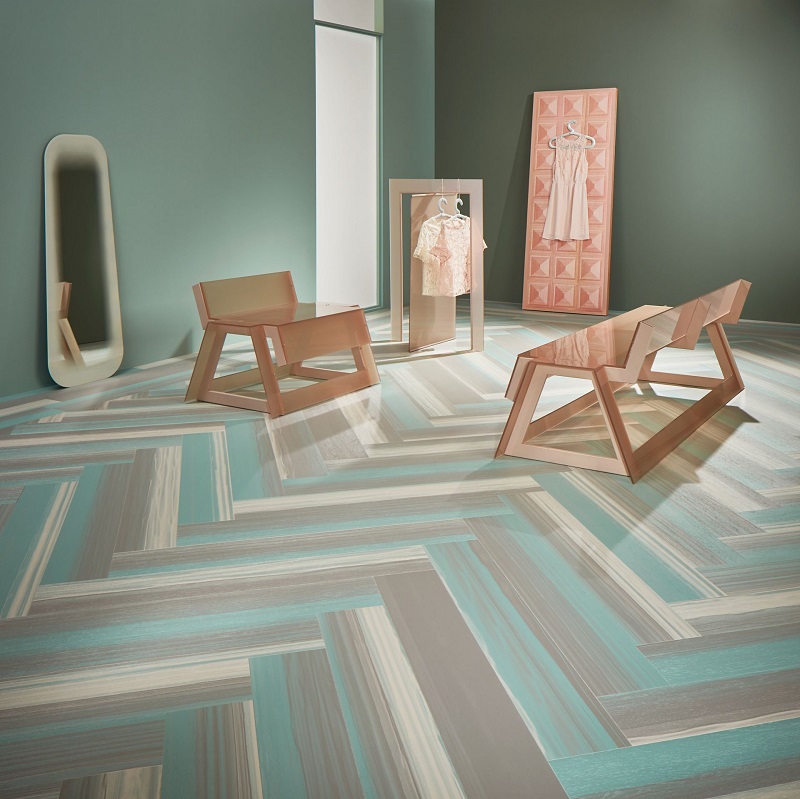 The result is a flowing, expressive appearance, which is further heightened by the realistic wood embossing on the plank options.
For example, the White Fused Oak colourway within the plank range features white, grey and transparent streams in the wear layer, which adds an extra dimension to the natural wood embossing and really brings the design to life.
The Black Fused Oak option is characterised by the dominant solid black colour, which is mixed with a grey paste stream to create a playful aesthetic.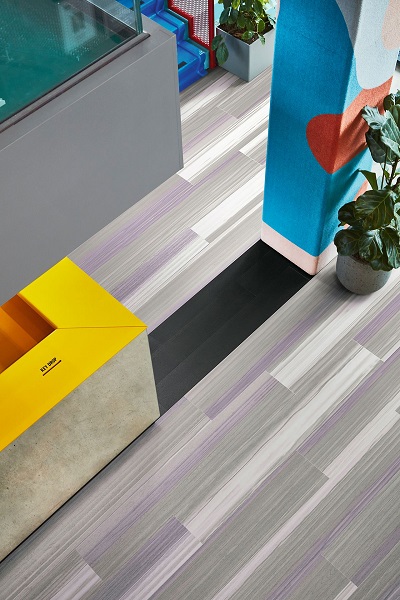 Finally, the Green and Purple Colour Fuses deliver a more abstract design within the collection. They are solid coloured planks, with bright colour accent streams that create a truly striking effect.
Three 50 x 50 concrete tile designs complete the Allura Fusion collection. Created using one coloured paste stream and a transparent top coat, specifiers can choose from Fused Grigio, which is a light concrete shade; Fused Natural Concrete, a mid-tone option; and Fused Nero Concrete, the darkest shade available.
Janet Lowe, Head of Marketing UK & Ireland at Forbo Flooring Systems, commented "As Allura is one of our most popular floor coverings, we wanted to bring something completely new to the collection and we certainly think we have achieved this with Allura Fusion.
"The fluid, organic designs give specifiers the freedom to create truly individual installations, safe in the knowledge that there will be no repetition even in the largest of spaces."
Allura is 100% phthalate free, REACH compliant and produced in Europe with low emission levels.
The excellent dimensional stability ensures safe and hygienic floors, as dirt isn't trapped in the seams; and the superior PUR system guarantees long lasting appearance retention and improves the resistance to stains and scratches. Choosing Allura means you are choosing to create better indoor and outdoor environments.
Allura Fusion is Forbo's new addition to its popular and larger Allura collection, which offers stick down, loose lay and click formats to enable installation flexibility.