Hunter Douglas, the global architectural products manufacturer, has published its latest comprehensive guide to ceilings and walls, covering its entire metal, wood and felt ranges
The hardback, 394-page Commercial Ceilings & Walls Product Guide 2018/2019 is aimed at architects, designers and specifiers and provides technical data, colour finishes, material characteristics, applications and acoustic performance data in easy-to-read form. Colourful photographs of the systems in situ also enable them to see exactly how they look on schemes across the world.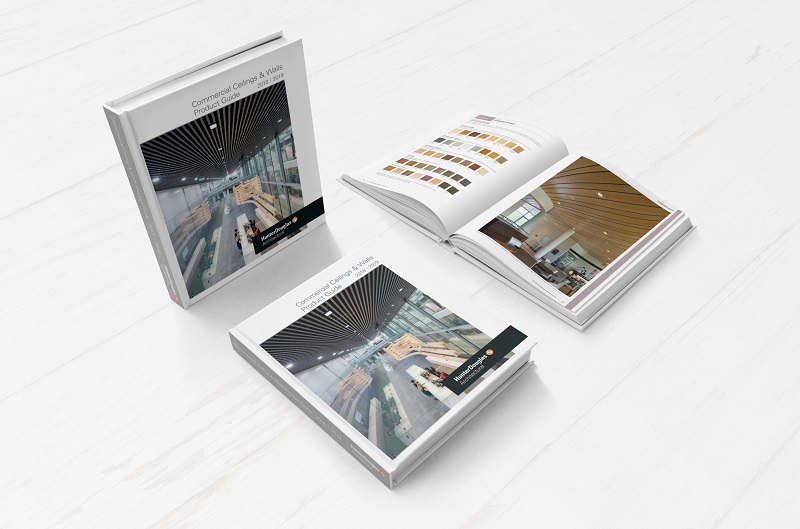 Divided into discrete chapters, the guide details the Hunter Douglas range of interior, exterior and sports ceilings, and wall systems. It includes its newest product, the Heartfelt® felt ceiling and wall system, which has incredible acoustic performance and stunning aesthetic appearance. Heartfelt® scooped the Red Dot award 2017, prestigious international design prize, for product design, and has since introduced a new earth tones colour palette to complement the five greys and black and white.
Highlighting its wood collection, the manufacturer showcases its wide selection of solid wood, veneered wood and natural-looking woodprints in linear, grill, tiles, topline and panel form, while the 191 pages of the guide dedicated to Hunter Douglas's full choice of metal ceilings demonstrate their sheer versatility in multiple applications and settings.
The guide also highlights the exterior range, which have been specified on prominent developments across the globe, including Gdansk Lech Wałesa Airport, Poland; Philips High Tech Campus, Eindhoven, The Netherlands; and the Reebok World Headquarters, Canton, Massachusetts, USA. Most of the interior products have a solid wood, veneered wood or metal version adapted for exterior use, which are capable of withstanding wind loads and humidity. It means that architects and designers are able to continue the interior ceiling design on the outside of the building.
A resources section focuses on BIM, perforation patterns, acoustic test results and sustainability.
David Harris, General Manager of Hunter Douglas said: "For more than 50 years we have thrived and grown on innovation, which is why we are recognised as one of the world's leading firms in design, function and sustainability in the fields of wall and ceiling systems.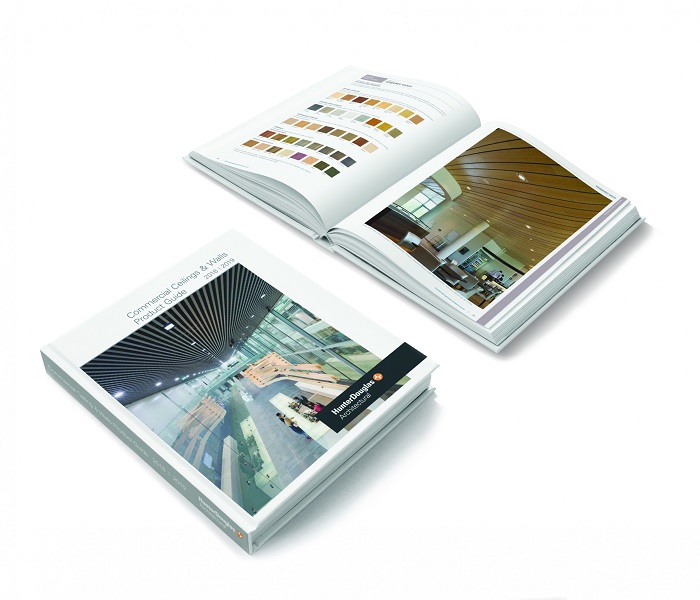 "We manufacture some of the most dramatic and striking ceilings and walls for thousands of exciting developments and refurbishment projects and are trusted by architects and designers to deliver outstanding high-performance architectural products, whether they are working to meet LEED requirements or solve specific architectural challenges.
"This new guide is our most comprehensive yet and we hope it will inspire architects, designers and specifiers to see how our huge range of products can help them to achieve the aesthetic they are seeking with world-class products, backed up by our team's knowledge and expertise."
To obtain a copy of the Commercial Ceilings & Walls Product Guide 2018/2019, contact Hunter Douglas 01604 648 229.