Hostile Vehicle Mitigation specialist Marshalls has had a number of its Landscape Protection products installed as part of two pedestrianisation projects in the city of Leeds.
The new solutions are enabling local patrons to enjoy outdoor drinking and dining opportunities in a safe and secure manner.
The city of Leeds has a lot to offer tourists and local residents alike, but Greek Street and Queen Street stand out as particular highlights. The popular locations host some of the best bars and restaurants within the city. Now, following a recent pedestrianisation project, the streets are more accessible than ever. With the risk of COVID-19 transmissions significantly reduced outdoors, the new outdoor dining areas are also helping to encourage local patrons back into two popular areas in the city.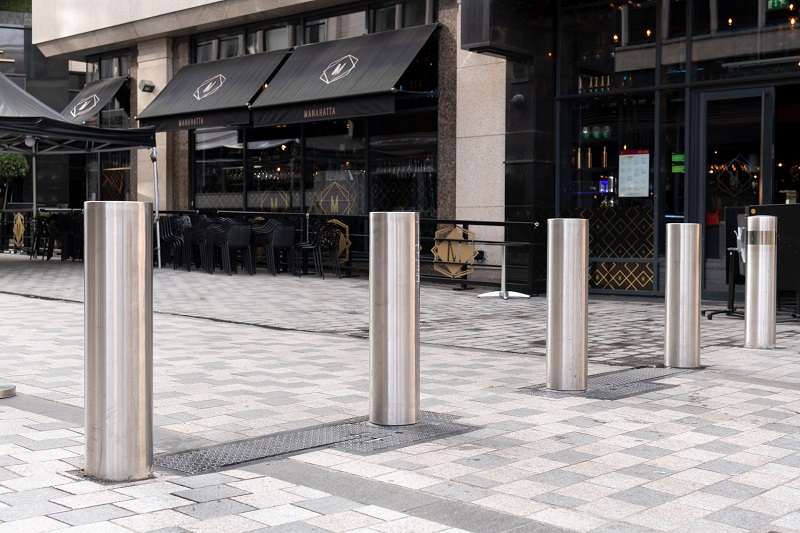 When planning pedestrianised areas urban planners must be cognisant of the risk of vehicular attacks. Unfortunately, a number of vehicle-related tragedies have underlined this threat in recent years. As such, Leeds City Council approached civil engineering company, Colas for assistance in sourcing suitable Hostile Vehicle Mitigation solutions. The security solutions would also help to section off the newly pedestrianised areas, ensuring they remained free of vehicular traffic between the hours of 11:30am to 5.00am.
Adam McCormick, Contracts Manager at Colas explained: "We undertook a Vehicle Dynamics Assessment at both sites, which highlighted the need to install high-performing hostile vehicle mitigation solutions. We were already familiar with Marshalls Landscape Protection's solutions and felt they could be used to meet all relevant requirements on the two streets. That's why we reached out to the leading landscape protection specialist to find suitable systems to secure the site."
Working closely alongside staff at Leeds City Council, Marshalls Landscape Protection recommended a number of suitable security options. Following this process, a number of protective RhinoGuard bollards were chosen for installation. Manufactured in Britain, the bollards are crafted from stainless steel and crash tested to the PAS 68 standard. As such, the low maintenance systems combine inner strength and outer beauty.
Aside from preventing the risk of intentional vehicular attacks, the RhinoGuard bollards have increased the safety of pedestrians by creating pedestrianised zones within two busy night-life areas in the city. Thanks to the installation, individuals on the two streets can walk around the newly pedestrianised areas more freely. As such, the project hasn't only helped to elevate safety levels across both sites, but also enabled people to feel more confident enjoying themselves within the spaces.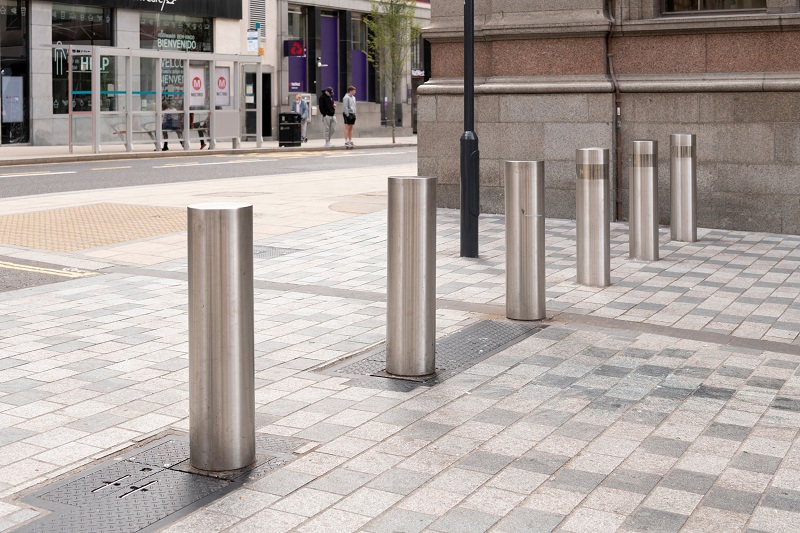 Mark Durham, Project Manager at Leeds City Council concluded: "We felt confident using Marshalls Landscape Protection's products as the company was also providing a new surface level of granite paving at the Greek Street site, which paired well with the selected bollard solutions."
As mentioned, the pedestrianisation project at Greek Street and Queen Street also involved the installation of a new surface level of Marshall's Granite paving. The hard-wearing, durable and strong granite system is suitable for both pedestrian and vehicular trafficked areas. What's more, the solution is fully tested to the appropriate standards in the UK and UKCA marked in accordance with the latest legislation. As such, the paving solution provided an ideal choice for Leeds City Council.
Notably, work at Greek Street was partially funded by a £300,000 donation from local businesses. To this end, the project stands out as a notable example of what can be achieved when private businesses and public organisations come together. Now completed, the two streets are experiencing exceptional footfall. The two projects also form part of Marshalls Landscape Protection's broader work within the city of Leeds, which also include recent projects on Merrion Street, Cookridge Street and a temporary pop-up park on Briggate Street.