IVC Commercial's Studio Moods modular vinyl design floor has won another award, this time in the Flooring and Floor Coverings category in the SBID (Society of British & International Interior Designers) International Design Awards.
The prestigious accolade joins Studio Moods' Reddot and Mixology awards.
Alison McLaughlan, head of marketing, IVC Commercial says: "Studio Moods is an example of our approach to design and how we think differently to produce concepts that let designers explore the creative potential of flooring for commercial interior projects.
"We're delighted that this has been recognised by the panel of judges and greatly appreciate the votes we received from those in the industry too."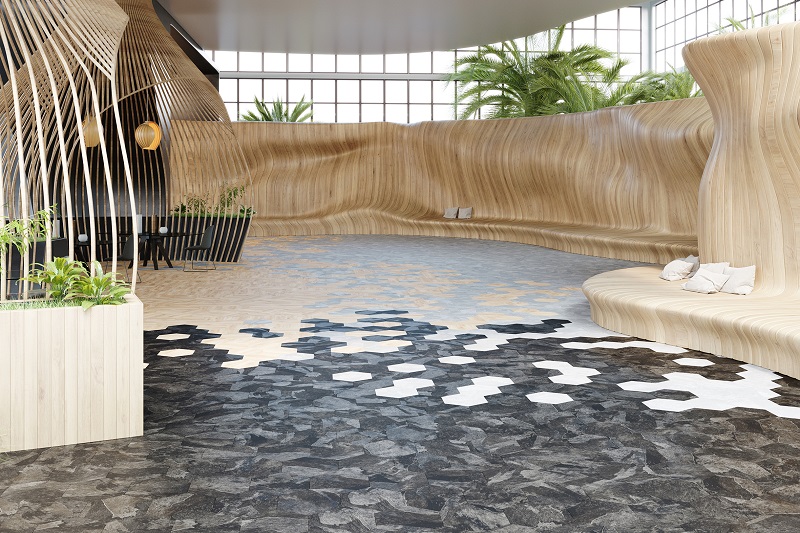 IVC Commercial's Studio Moods is a vinyl floor that's available in a variety of precision-cut geometric shapes and a range of wood, stone, material and colour effects. It allows designers to create a custom floor design easily and affordably.
The floor is made in Belgium using renewable energy and up to 50% recycled content from IVC Commercial's own recycling facility.
The SBID International Design Awards were presented at a glittering ceremony at London's Nobu Hotel with a sold-out guest list from across the world of interior design as they celebrated the industry's most revered interior designers and makers.
Studio Moods sat alongside other award-winning products including a smart air biofilter and a revolutionary water filter diverter.