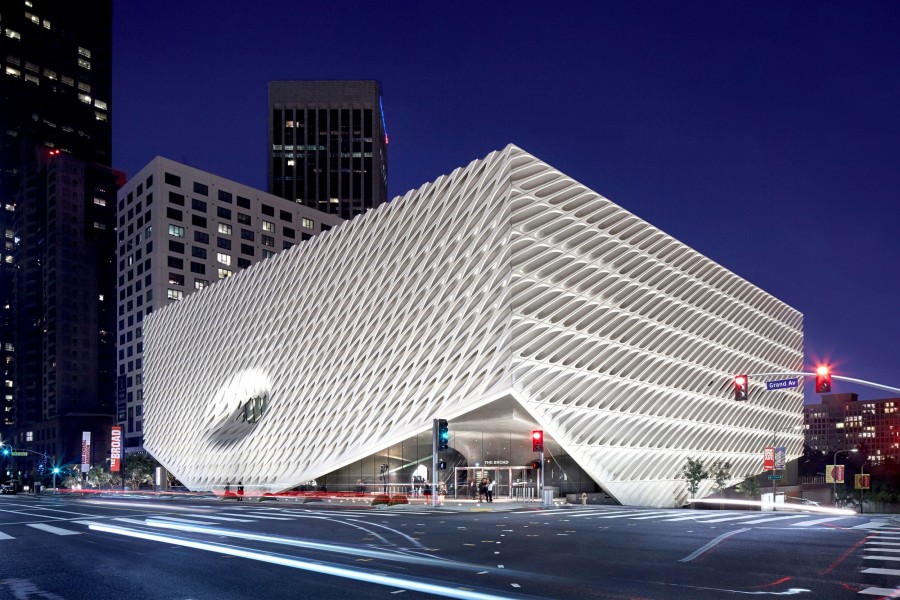 World-class galleries and museums need world-class solutions when it comes to protecting their valuable artworks from the harsh effects of daylight.
So, when the architects behind The Broad Museum of Contemporary Arts, in Los Angeles, USA, and The Latvian Museum of Art in Riga, looked for ideas on controlling daylight in their exhibition spaces, they turned to the engineering experts at Guthrie Douglas.
The pioneer of the single-motor, single-barrel tensioned shading system devised two different and innovative installations that enable light to filter through without damaging the artwork.
Andrew Kitching, Managing Director of Guthrie Douglas, said the projects called for more than just engineering prowess – they also required a scientific understanding relating to the preservation of artworks.
"Calculation of solar radiation exposure levels is an exact science, and must take into account many factors including the material composition and reflection of gallery surfaces, artwork lifespan, rate of exhibit change, and materials analysis of individual art pieces," he says.
"Where direct light is transmitted through glazing, careful modelling must take into account the variations of aspect, location and season."
This can be challenging; for permanent collections, typical limiting annual exposure can be as low as 15,000 lux hours at an illuminance of 50 lux for highly sensitive materials.
The Guthrie Douglas TESSTM 660 system was selected for the vaulted rooflights at The Broad Museum of Contemporary Arts, because it was the ideal solution to balance the unusual lighting from the "veil and vault" design by architects Diller Scofidio + Renfro.
To control the light levels from 100% ambient light to 100% blackout, each of the 350 uniquely shaped rooflights was fitted with a Guthrie Douglas TESSTM 660 tensioned blackout shade and was connected to a single wireless network that covered the roof. This enables diffused light to filter through and the system also allows museum staff to open and close the shades quickly and easily.
This innovative approach to shading was recognised in a number of prestigious awards, including AIA Daylight Project of the Year, Best Interior Lighting Scheme, and Engineering News Project of the Year.

The historic Latvian Museum of Art, which underwent an extensive renovation, required a different methodology for a similar light problem.
Although the sloped floor-to-ceiling windows in the new multi-purpose exhibition space in the attic provide beautiful views of the city, light levels have to be controlled and sometimes blocked out.
Working with Latvian lighting and fit out specialists Multisell Sistemas, Guthrie Douglas designed a dual system that features both a blackout and a translucent fabric, creating a multi-layered lighting effect.
Using the compact TESSTM 660 technology, dual fabric guides were installed onto the slim glazing mullions, which allows curators to choose four levels of filtered light, including blackout.
Motorised fabric barrels were integrated into the ceiling and flooring and both fabrics remaining perfectly flat, thanks to a torsion spring that is concealed in the barrel.
"These extraordinary exhibition areas each had their own technological challenges to overcome, but our engineers devised shading solutions that were not only innovative, they provide to be transformative for the spaces," said Andrew.
For more information please visit www.guthriedouglas.com