Granorte, innovator in cork, has refreshed its Recolour collection of contemporary design flooring, introducing a wide colour palette and a glue-down specification ideal for commercial locations.
Layering cork's beautiful natural aesthetic beneath a 28-strong colour palette from Pearl through Blush, Lilac and Olive to Slate Grey and Smoke, Recolour offers something very special for projects looking to break from the ordinary.
In a unique extra-wide plank format, Recolour can be used to create striking floor layouts, mixing colours, or presenting beautiful, flowing colour throughout a space. With a HOTCOATING super-matt finish, Recolour builds on cork's aesthetic for a more natural appearance.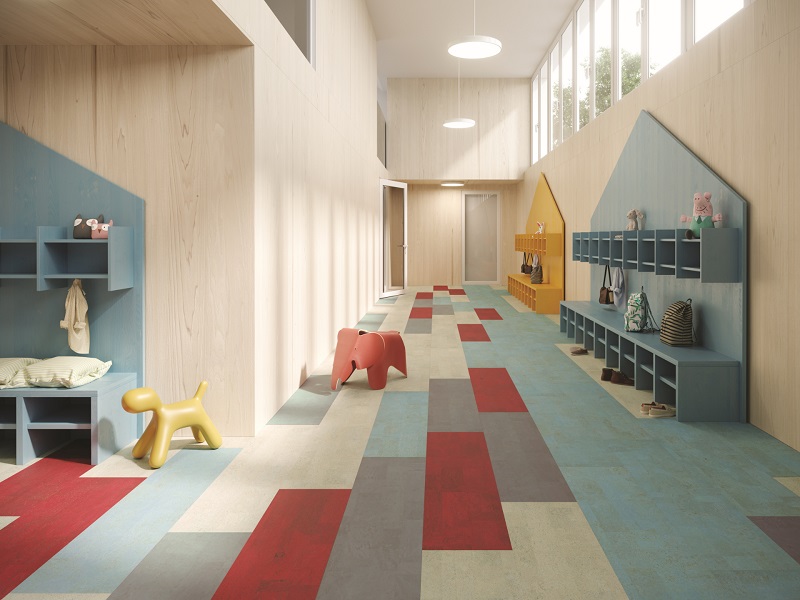 Available with Uniclic in a floating construction, and now in a glue-down specification, Recolour uses cork's natural properties to provide a floor that offers acoustic absorption, thermal insulation and underfoot comfort. Equipped with MICROBAN antibacterial protection, the floor is also hygienic, further aided by the easy maintenance of the HOTCOATING wear layer.
"Cork is a wonderful material that's not only natural and renewable, but also packed with performance features that make it a great flooring choice," explains Paulo Rocha, Granorte. "In Recolour, we're embracing these features and cork's beautiful aesthetic with a floor that embraces colour. As commercial environments are beginning to discover the role bold colour combinations can play in the floor, we're looking forward to seeing Recolour used to extraordinary results."
Rated Class 32 and so suitable for general commercial use, Recolour can be confidently used in office, retail, hospitality and leisure projects. With a five-year commercial warranty, the floor joins Granorte's impressive portfolio of floors for contract environments that harness the sustainability, beauty and practicality of cork.