ROCKWOOL, the world's largest producer of non-combustible stone wool insulation, introduces a fire-resistant insulation, specifically designed to meet the latest, rigorous EN fire resistance standards in a varied range of ductwork applications.
As part of the existing ROCKWOOL FirePro range, the DuctRock system meets the EN fire resistance standards EN1366-1 for A and B ventilation duct types, and EN1366-8 for smoke extraction ducts.
It is fully tested in both horizontal and vertical applications for rectangular ductwork, in addition to dry wall and solid floor penetration details.
DuctRock is supplied in just three levels of thickness to make specification easier and classified with a fire rating ranging from EI 30 up to EI 120 (depending on the thickness chosen), in accordance with both EN 13501-3 (fire ducts and fire dampers) and EN 13501-4 (smoke control systems).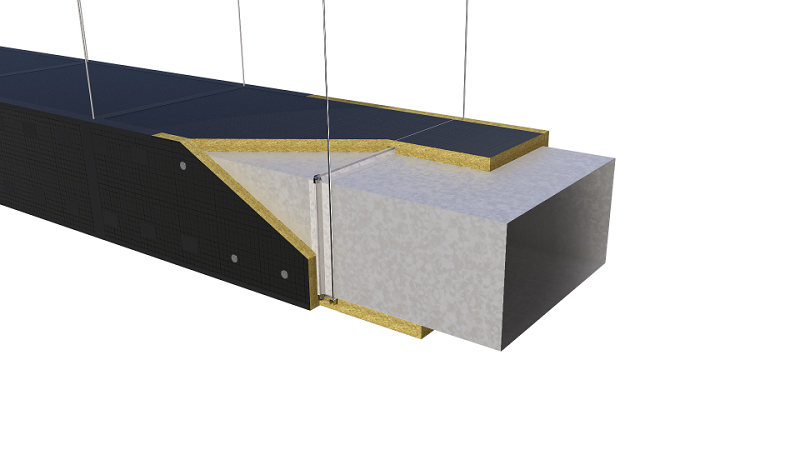 The high quality, black outer foil finish identifies the DuctRock system as the latest EN tested solution and provides a smart, aesthetic finish for ductwork manufacturers, contractors and end-users. Quick and simple to cut, handle and install, the FirePro DuctRock system is CE marked to meet BS EN 14303, covering thermal insulation products for building equipment and industrial installations.
"Our objective was to develop a system that simplified the specification process, provided wide scope and fully met the criteria set out in the latest EN test standards, while also being easy to install and cost efficient.
We went for a high quality black finish that not only supports the insulation performance; it also offers more choice and design freedom for architects and engineering consultants.
Ultimately, we wanted owners to be safe in the knowledge that their buildings are protected by an exceptionally fire resistant and non-combustible system."– Paul Barrett, Product Manager, Rockwool
The FirePro range of insulation products from ROCKWOOL is renowned as a comprehensive and effective series of firestopping and fire resistance solutions, proven to slow the spread of fire, protect escape routes and allow valuable time for safe evacuation and firefighting, minimising damage to valuable assets in the process.
The specialist range incorporates solutions for building applications such as: structural protection, penetration seals, linear joints, cavity barriers, HVAC and smoke management systems.