An Alumasc Blackdown green roof system installed at Chester's new £13.5 million bus station is improving air quality and biodiversity at the new bus interchange, which is part of the £300m Chester Northgate Redevelopment.
Lakesmere Project Manager Steve Johnson commented: "We chose Alumasc's Blackdown system because it combined excellent operational performance with valuable environmental benefit."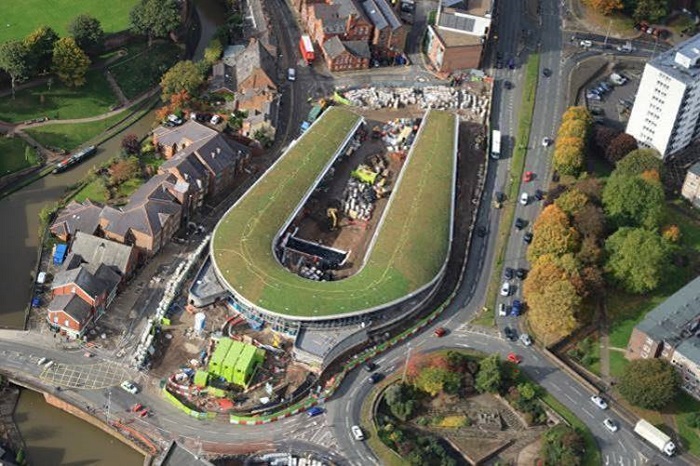 A 3,434m2 Blackdown Extensive NatureMat roof was laid upon a Kalzip standing seam roof, and then planted with Sedum NatureMat - a hardy perennial plant that is low growing, drought tolerant, succulent, attractive to butterflies and insects – creating a 'living' roof which provides a number of environmental benefits such as aesthetic improvements, waste diversion (the use of recycled materials in the growing medium), storm water management, moderation of urban heat island effect and improved air quality.
Alumasc's Blackdown team began technical and estimating work on this complex project back in October 2014, and followed it through to successful completion in April 2017.
Among the technical challenges that they overcome was the need to create a roof system with a variable pitch ranging from 0 up to a steep 35 degrees, with tapered seams, and the fact that the roof was un-insulated and supported only on purlins – meaning that any damage or depression on the profile during install would be clearly visible from within the building.
Lakesmere's Steve Johnson added: "Working closely alongside ourselves, as installers of the Kalzip roof, and main contractor Graham Construction, the Alumasc Blackdown team helped deliver a carefully managed, high-quality green roof on time, on budget and with no Health & Safety incidents".