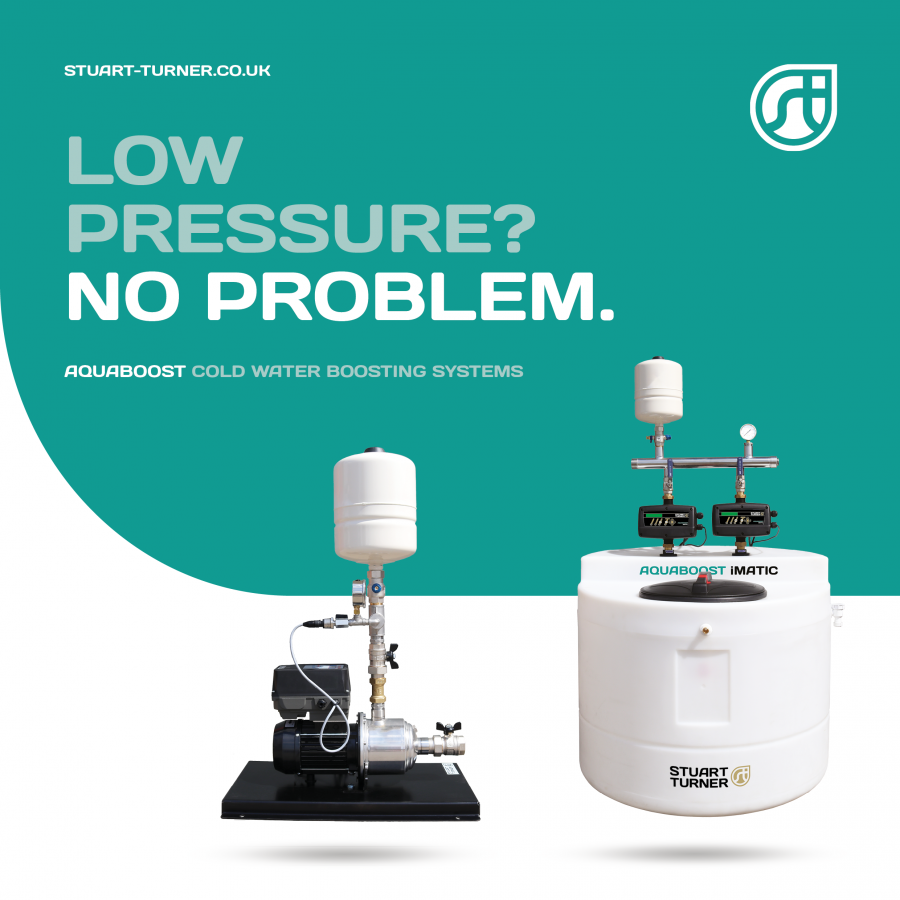 Pump specialist Stuart Turner extend their Aquaboost range with the iBolt and iMatic variable speed cold-water pressure and flow boosting solutions. You could say that's' two in the 'i' for poor water pressure!
Simple to install, high performing Aquaboost iBolt.
This range of variable speed booster pumps and pump sets feature horizontal multistage pumps controlled by air-cooled variable speed frequency inverters designed to deliver constant water pressure supply where flow demand varies, mounted directly on the pump motor. These high performing, simple to commission pumps deliver flow rates up to 15 m3/hour and head pressures up to 9.0 bar.
Aquaboost iBolt Booster Sets are supplied with a WRAS approved 8 or 24 litre pressure vessel, providing an additional buffer of pressurised cold water, combined with either a single or twin pump set mounted on a powder coated base plate for ease of installation.
Easy to install, Aquaboost iMatic booster systems are extremely quiet in operation.
Supplied as an integrated system featuring one or two submersible multistage pumps controlled by automatic variable speed frequency invertors and packaged with a polypropylene break tank. Designed for installation where space is limited, they offer flow rates up to 10 m3/hour (per pump) and head pressures of up to 6.6 bar.
Aquaboost iMatic systems utilise WRAS approved materials and include an AC air gap within the tank design. With tank capacities from 450 to 1200 litres Stuart Turner offer a packaged solution for water pressure and flow boosting applications. Simply connect to the mains water supply.