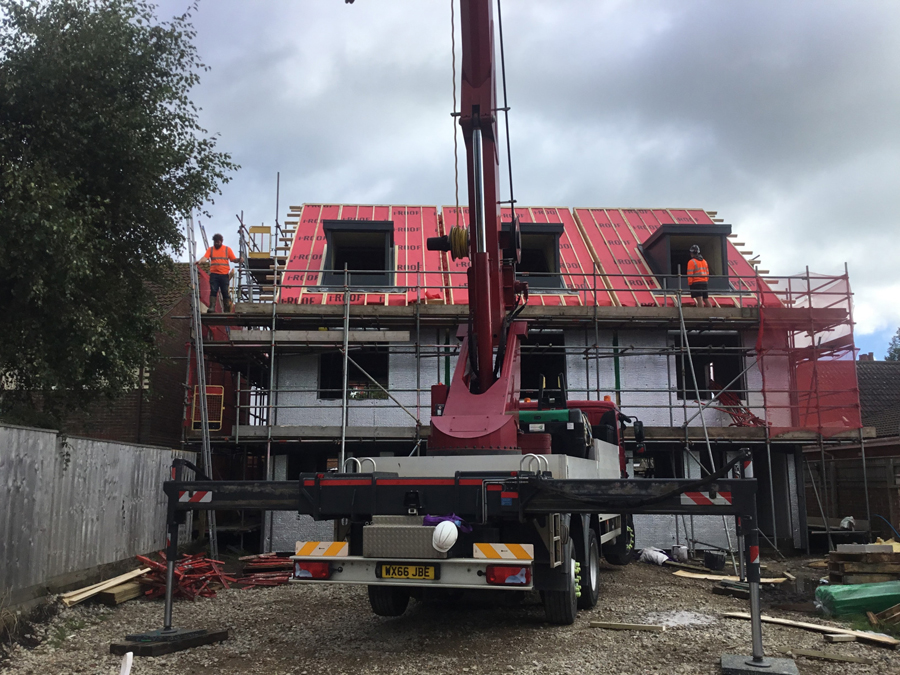 Roofspace Solutions has partnered with Karm Homes on a five-house development, combining two of its innovative modern methods of construction (MMC) products to speed up the build.
The Tuttons Rise development in Christchurch, Dorset, comprises three 2.5-storey homes which have been completed with both Roofspace Solutions' i-House™️ and i-Roof™️ product, and two two-storey homes which feature the i-House and traditional roof trusses.
The partnership began following Karm Homes' decision to use MMC on its future developments, to benefits from the associated speed, safety, sustainability and quality gains. The work began in early September, and resulted in five watertight structures ready for follow-on trades in just over a month.
What are i-House and i-Roof?
Intended for domestic property construction of up to three storeys, i-House consists of inner leaves of external cavity walls, separating walls, floors, lintels, cavity closures, insulation and roof trusses, with the inclusion of soffit and fascia for the internal skin of the property.
i-House uses a bigger variant of the aircrete block, which are lifted by crane and assembled in a similar sequence to a timber frame build. This results in a much faster construction process than a traditional build, with homes constructed from the slab up to the roof trusses in only five days.
Meanwhile i-Roof is a room-in-room solution for 2.5-storey homes including walls, floors and roofs. Traditional blockwork is replaced with a secure timber engineered solution and works alongside traditional build methods.
With multiple installations delivered in just one day, work on other elements of the build process can continue without disruption. As a system provider, Roofspace Solutions can also bring together and work with other key suppliers of products, such as dormers, roof lights and fire protection, to ensure airtightness and correct installation.
Danny Edmunds, Construction Manager at Roofspace Solutions, said: "Combining our two MMC solutions multiplies the speed and quality benefits, as our technical and installation teams can all work together to achieve the same goal. This project has been a great opportunity to show Karm Homes what we can do, and how our two solutions work so well together – and we had the development finished in no time!"
Martin Keenes, Director at Karm Homes, said: "We opted to work with Roofspace Solutions as i-House and i-Roof provide a huge speed advantage – saving several weeks – and there were no materials for us to procure and store as Roofspace supplied. It was also a one-stop shop with installation labour, saving us the hassle of organising multiple trades and materials and no Safety or Temporary Decking was needed to work on the top floor."
For more information, visit https://roofspacesolutions.co.uk/