The housing landscape is changing. As the UK moves towards a carbon-neutral future alongside an ever-growing demand for new homes, the construction industry is having to think fast.
With Baxi's in-depth knowledge of the building industry and a track record for space heating and hot water innovation dating back over 150 years; Baxi Assure, The Complete Home Service is perfectly placed to deliver the efficient, cost effective heating solutions for new build partners' needs – for today, and tomorrow.
Baxi Assure's range of products, boilers and cylinders are designed for low-cost, super-fast installation. All products are compact, lightweight in design and include space saving features as standard, so there's a solution tailor-made for even the tightest of spaces. And with a long-life, low-maintenance operation made even more efficient with our energy saving accessories, Baxi Assure heating systems are designed to ensure lower running costs and lower emissions whilst raising SAP ratings.
Looking ahead, Baxi Assure, The Complete Home Service is introducing new ways of efficiently heating new homes of all types. Electric and LPG boilers provide flexible solutions for developments not on mains gas and innovative Baxi Assure Air Source Heat Pumps and integrated district heating options are paving the way for a carbon-free future.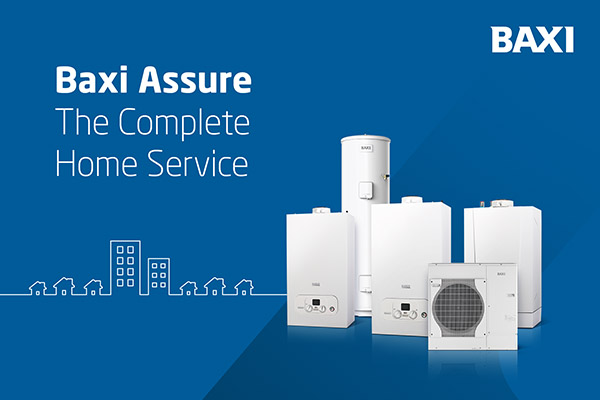 Space heating and hot water systems is only part of the service – the team are also passionate about giving you the service needed, every step of the way.
The Baxi Design Service team will plan and configure solutions tailored to developments from housing to multi-occupancy and multi-use sites. The Baxi Assure team can help with installations, commissioning and free SAP assessments on site too. When it comes to servicing, readily-accessible genuine parts and an extensive BIM library will have everything required for small and large projects.
Baxi Assure also offer bespoke training and CPDs for specifiers, contractors and developer teams covering everything from understanding the latest regulations, to specifying new low-carbon solutions like Baxi Assure Air Source Heat Pumps.
Rest assured the future of heating and hot water are in safe hands with Baxi Assure, The Complete Home Service.
For more information visit baxi.co.uk/ assure