Located in the heart of London, a stone's throw from the Square Mile in the City of London, Royal Mint Gardens sits between the past, the present and the future, adjoining Tower Bridge and the Tower of London.
The new site offers panoramic viewpoints over the timeless Thames and London's iconic skyline and is situated in a privileged position steeped in history. This luxurious development offers the ultimate in modern city living.
Designed by Farrells and combining visionary architecture with innovative engineering, Reynaers is working with developer IJM Land and façade contractor Staticus to supply frameless glazing that offers uninterrupted views across London's skyline and maximises natural light. Royal Mint Gardens is spread across three blocks, Rosemary, Lavender and Sage and the project is due to be completed in December 2019.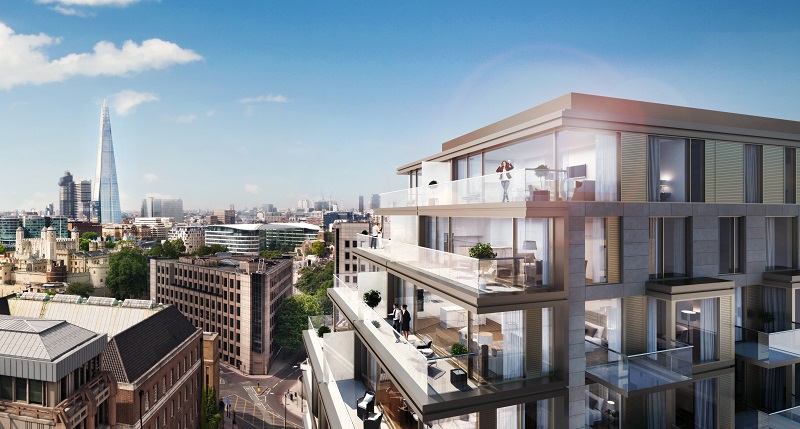 The project has been particularly challenging given the close proximity of existing transport infrastructure, but measures have been put in place to minimise any potential disruption; an existing underground railway viaduct was demolished as part of the enabling works for the site, while the overground line was retained and remained in use.
Additionally, an encapsulation structure has been installed over the Docklands Light Railway (DLR) Bank line, which runs through the middle of the site, to ensure the safety of those working in the live rail environment.
Facilities within Royal Mint Gardens include a wellness suite with swimming pool and jacuzzi, gym and yoga studio. An exclusive leisure retreat offers residents a cinema room, residents lounge and private dining rooms as well as two courtyard gardens.
With more than 13,000 square meters of unitised façade structures installed across 263 units, the mixed-use development includes a number of innovative elements such as frameless, full hanging façade elements (on tension rods) with horizontal glass fins.
The unique slender aesthetics of Reynaers' 'ElementFaçade CW 65-EF' aluminium curtain wall provide maximum transparency without compromising on the extreme strength and stability required in high-rise construction. The system is available in varying insulation levels and glazing variants to provide the optimum solution for different projects.
Both external and internal balconies unify three towers of varying heights, to provide spectacular viewpoints from every level. Reynaers'Concept Patio (CP) 155-LS sliding doors have been selected for their premium look and insulation qualities as well as practical advantages such as a low threshold option for optimal accessibility.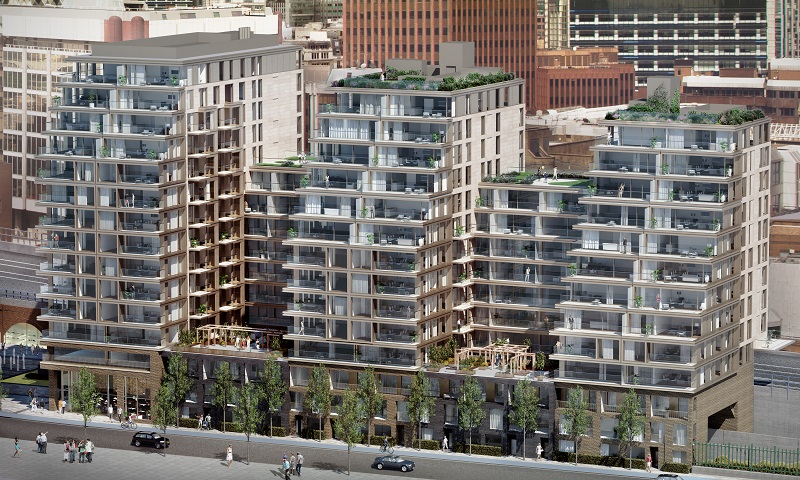 Royal Mint Gardens features the upgraded version of CP 155-LS with High Insulation (HI) to increase insulation values for low-energy buildings. A further variant is also available which holds the Swiss Minergie component label, the sustainability brand for new and refurbished buildings.
Commenting on the development, Neil Garner, International Project Consultant at Reynaers, said: "Royal Mint Gardens is a fantastic development in one of the most iconic cities in the world.
"The new project will provide residents with epic views across the Capital, coupled with contemporary design and high-quality amenities. At Reynaers, we strive to enhance the built environment, whilst ensuring that all our ranges offer residents optimum security and safety."
Royal Mint Gardens is redefining city living with innovative design both inside and out combined with unrivalled access to the City and showstopping views.
Set within a landscaped piazza to provide further space for socialising and relaxation, the development offers a unique location to enjoy life in the beating heart of London.