Fassa Bortolo, the Italian render specialist, has brought its expertise and renowned product quality to interior spaces, launching its striking Sfide D'arte plaster collection to the UK market.
An alternative new solution for internal walls and ceilings, this architecturally stunning plaster range allows designers and architects to personalise interior spaces, bringing a whole new dimension to commercial and high-end residential projects.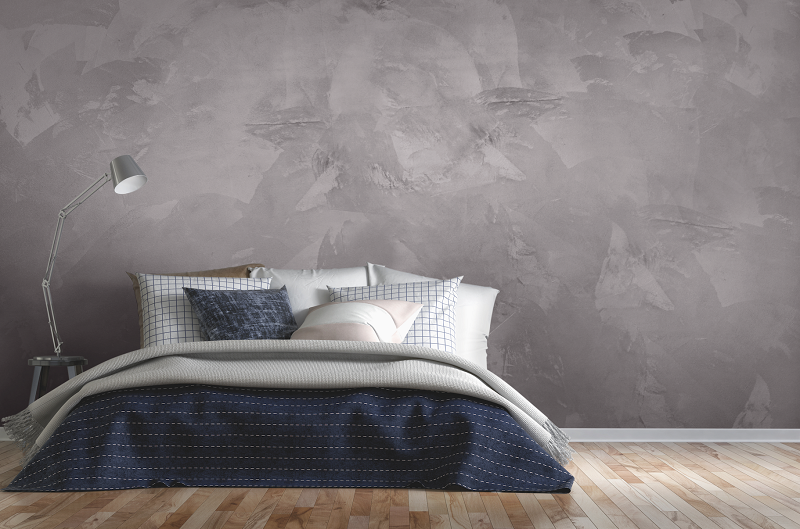 Made from the finest quality raw materials, this extensive collection of plaster is intriguingly decorative yet extremely practical. Covering a wide spectrum of ornate effects from discreet to dramatic in a spectrum of colours, Sfide D'arte provides a striking, contemporary alternative to wallpaper and paint, giving designers the opportunity to experiment with their interiors.
Upmarket residential developments, bars, restaurants, hotel lobbies and plush public spaces; this plaster collection pushes the boundaries of traditional finishes, delivering standout surface coverings. Available in a range of different textures from urban inspired concrete and travertine through to luxurious high shine marble, Sfide D'arte connects the great outdoors with indoor spaces, harnessing the refined beauty of natural stone.
For a feeling of perspective and depth, look to the aged, distressed plaster ranges to transform walls. Time worn finishes and industrial style concrete textures sit alongside smooth stone effects with a satin appearance, available in everyday neutrals and delicate pastels through to bold, jewel shades, with mesmerizing shimmers, elegant metallic finishes and light reflecting marbles for a sense of movement.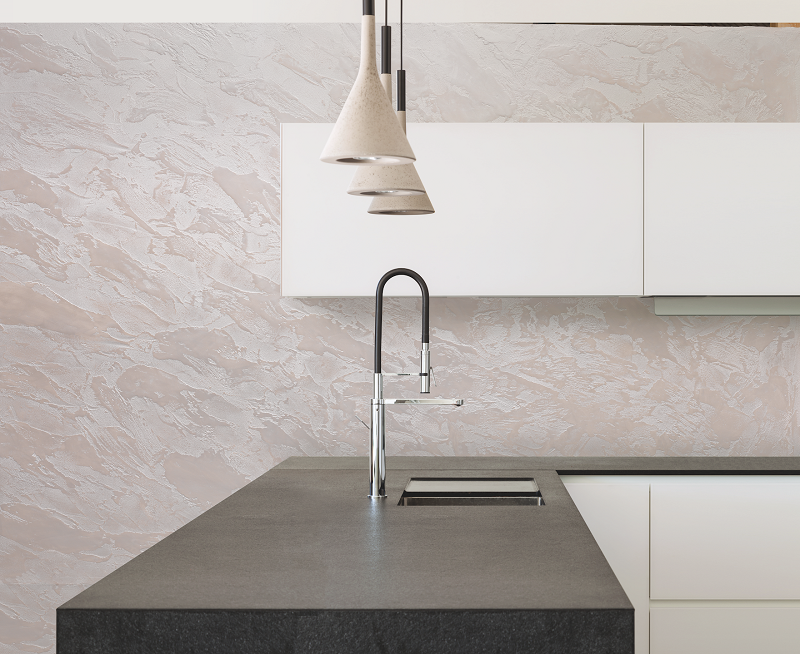 A finish for every project:
RICORDI MATERIA: textured, distressed effects in a range of stone, marble and cement finishes. Full of character and charm, the range comes in earthy organic colours, as well as terracotta, beige and white
RICORDI MARMO: a smooth, satin surface with shadow and marble effects in a neutral colour palette of grey tones and organic shades
RICORDI STUCCO: smooth and polished surfaces with light reflecting properties. Lavishly elegant, walls are transformed with bright, bold, oranges, pinks, greens, blues and yellows
RICORDI CALCE A PENNELLO: a decorative finish for interiors and exteriors, with a smooth, flat effect
DESIDERI VELO: suited to indoor and outdoor spaces, this range delivers a rugged, heavily textured effect in a range of neutral shades
DESIDERI MINERALE: natural shadow effects that deliver smooth walls with a gentle texture. Pastels, grey tones, neutrals, through to striking jewel shades
DESIDERI LUCE: shimmering, glitter effects and magical, rich colours to capture a metallic, surface. This inspired range reflects the light, and comes in shades of gold, green, bronze, silver and delicate pastels
DESIDERI CRISTALLO: an elegant metallic effect with a gentle sheen. Atmospheric and luxurious, it comes in a selection of pastel shades, silver and grey tones as well as bold petrol hues
DESIDERI PERLAL: an iridescent shimmer for silk-like walls. With a soft, brushed effects, this plaster range is timeless and sophisticated with pearlescent pinks, lilacs, oysters, silvers and greys
A 21st century take on traditional plaster effects that grace some of the world's most historic buildings, Sfide D'arte is all about delivering stylish aesthetics that will stand the test of time. A strong, durable finish, the collection is well suited to irregular surfaces, adding strength to walls, while helping to improve insulation and sound proofing properties.
Applied by hand, there is an art to creating the perfect finish, but the range is supported by an in-depth free training course, offered at Fassa's training center in Tewksbury, available to all plasterers.