Ventilated façade specialist, Shackerley, has provided the cladding for a second Watkin Jones student accommodation project, meeting new rules for non-combustible cladding above 18m with its A2-rated (to BS-EN 13501-1) SureClad Engineered Stone system.
The SureClad specification for the Market Street student accommodation project in Newcastle Upon-Tyne follows the installation of Shackerley's A2-rated engineered stone system for Watkin Jones' St Mungo's project in Glasgow.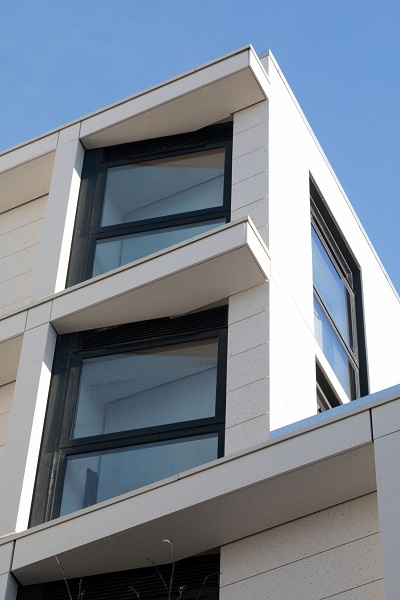 In both cities, the durable, versatile material has been used to provide design flexibility and complement the aesthetics of local architecture, while ensuring a robust façade with proven fire safety.
A 225-bedroom student accommodation development, consisting of 46 studio apartments, two DDA rooms and 177 bedrooms arranged in clusters, the Market Street project needed to meet strict planning guidelines to remain in context with surrounding buildings.
Shackerley's SureClad Engineered Stone façade system was specified in two white colourways; a pure white with light grey flecks and a mottled white, both in a honed finish. These subtle variations have been used to create interest and depth for the façade, with the different colourways used for the beams and the flat areas of the elevations. In addition, a small feature area has been completed using brick red SureClad ceramic granite in a rustic, textured finish at ground floor level.
Large format 3050 x 1240mm panels were used for the majority of the façade, with each panel precision-fabricated at Shackerley's ISO 9001:2015 accredited Lancashire production plant. The panels used were just 20mm thick, providing a natural stone appearance with a very lightweight and resilient façade solution.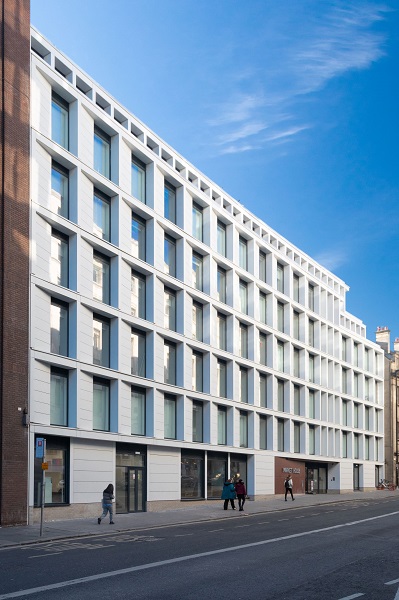 Shackerley also fabricated more than 100 different individual façade components for the details of each elevation.
Watkin Jones' project manager commented: "We are the largest provider of student accommodation in the UK and have delivered 28,000 student living units since 1999.
"We not only seek to deliver developments that complement their surroundings but are also committed to building assets that will stand the test of time and offer a high quality, safe environment for occupiers. Shackerley's SureClad engineered stone façade system has helped us achieve those objectives on two recent schemes, offering us a system that is lightweight, attractive and versatile, with proven fire safety."