As a major manufacturer of waterproofing and insulation solutions for walls and floors, Marmox has launched a new brochure showcasing its extensive product range addressing bathrooms and wet rooms.
Opening the 32-page A4 publication, specifiers and installers are presented with a striking double-page image of a sleek, modern bathroom, where cut-away views highlight the half dozen Marmox products applicable to various technically challenging applications.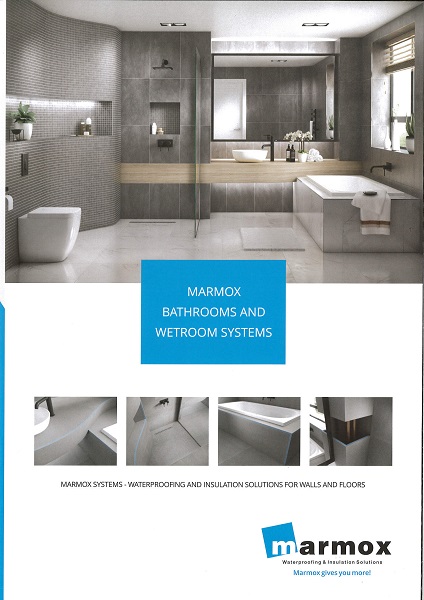 These hidden details are clearly numbered, to simplify cross-referencing the solutions which are explained on the following pages.
For example, the view under the sink lets the specifier know that Multiboard Curved Board is used (1), while number 5 indicates Marmox's floor level shower formers are suitable.
Turning the page, readers are introduced to more detail regarding Multiboard, such as its waterproof and insulative qualities, the fact that it can be tiled or plastered over and that the board is lightweight and easy to cut.
Moving on, the company's Pipe Boxing, Bath Panel, Sloped Board (for wet rooms with the drainage at the wall junction) and the innovative Showerlay 360 solutions are all looked at in more detail. Linear drains, point drains, and the very versatile Marmox Showerstone range, as well as various accessories such as adhesives and sealing tapes are further included.
The new brochure from Marmox features high quality photography throughout, backed by clear and concise information on how to use each product.
Towards the back of the brochure, Marmox outlines the technical support available along with contact details, thus ensuring specifiers, installers and the client can access further assistance if required.