ACO Building + Landscape has announced the launch of its new slimline doorway drainage system, Threshold Drain.
Designed to enhance property entrances leading onto driveways and patios, the system offers contractors and landscapers a unique way to add a subtle yet highly effective aesthetic finish to an installation.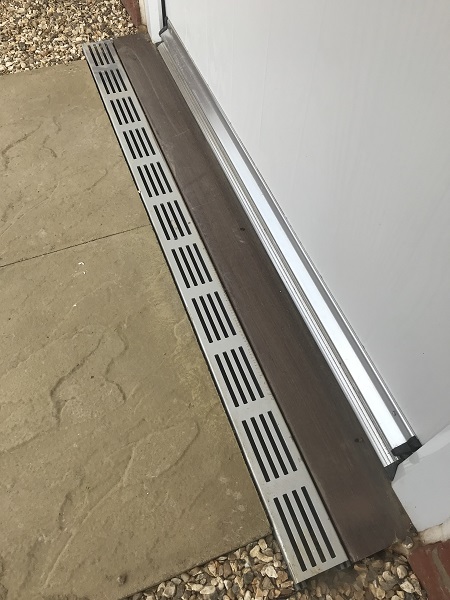 One of the key attributes of Threshold Drain is its ability to prevent water ponding, which can diminish the overall appearance of the threshold and degrade masonry if the water is allowed to collect over a long period of time.
The body of the Threshold Drain system is made from extruded plastic that is compliant with Part M of the Building Regulations for England and Wales and Section 4 of the Scottish Building Standards. The channel is also CE marked, and fully certified to load class A 15 BS EN 1433:2002.
Providing a slimline, discreet, and stylish finish to exterior projects, Threshold Drain is easy to install and can be connected to domestic soakaways and drainage systems. The system also features a removable aluminium ACO Heelguard™ grating, to prevent footwear from getting caught in the product. The grating is available in silver or black, allowing contractors to offer a threshold drainage system that is aesthetically pleasing and suits a wide variety of paving finishes.
Darren Crane, National Sales Manager - Building + Landscape comments: "The Threshold Drain is the latest addition to ACO's Building and Landscape range and demonstrates how easy it is to install drainage that can provide an effective water management solution, without compromising on the overall look of the project.
"Threshold Drain is already proving popular with merchants given its unique market positioning, and ability to provide a simple solution to the problem of potential water damage in thresholds. Ultimately, it not only looks great, but it also provides protection against water collection which can cause damage in the long-run to buildings."