Cube, GROHE's third ceramic line, was developed with the design-conscious in mind, to help create a bold style statement in the bathroom.
The geometric shapes can transform residential, corporate and public spaces into a haven of design whilst a variety of basin installations including wall hung, countertop and vessel, allow a freedom of functionality that will suit each individual space.
Further design flexibility is provided in the Cube's range of wall hung and countertop basins which have been manufactured to allow you to install a one or three tap hole basin mixer. With the new ceramic lines, GROHE is now able to position itself as a full-service provider in the bathroom.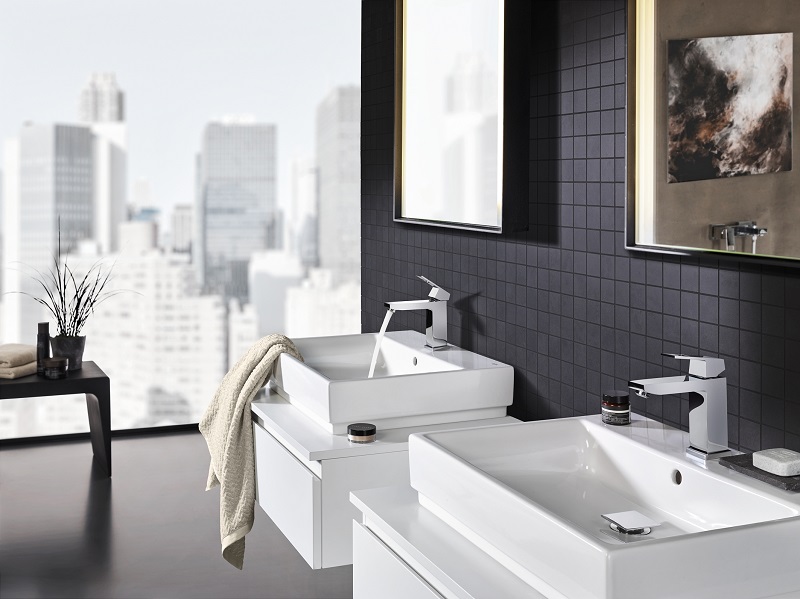 As part of the globally connected LIXIL family, GROHE benefits from decades of expertise in all areas of bathroom ceramics.
Armed with this technical know-how, the award-winning GROHE design team developed the washbasins, toilets and bidets with a view to match the linear shapes of its Eurocube, Lineare, Allure and Allure Brilliant ranges, ensuring a perfect combination of form and function. Each product has undergone rigorous testing in three key areas; easy installation, no water spraying whilst washing hands, and plenty of hand space for optimum comfort. GROHE have ensured its ceramic ranges surpass expectations at all stages of the process, including simple and intuitive installation for professionals, with a guaranteed superior performance for their customers.
Specification has never been so easy for installers, thanks to the introduction of GROHE's PerfectMatch solutions; a selection of tried and tested complementing brassware ranges for each of GROHE's three ceramic ranges. GROHE's website offers an accessible, intuitive platform that allows its clients to browse a selection of fittings and their matching ceramic products via an illustrated slider presentation, with additional detailed product information readily available.
With its minimalist look, the new ceramic line creates a luxurious oasis in everyday life. Innovative technologies behind the Cube Ceramic products also ensure maximum hygiene and maximum comfort for the consumer. The high-quality toilets of the Cube Ceramic line come with rimless flushing technology and a toilet seat that closes gently and quietly and can be easily released from the toilet. The powerful Triple Vortex flush creates a vortex using three water inlets that optimally clean the entire interior basin and are also significantly quieter than conventional toilets. In addition, the antibacterial hygienic coating PureGuard prevents bacterial growth on the ceramic surface thanks to an innovative surface treatment, which also helps maintain a sparkling fresh-from-the-box finish.