Urmet has supplied its IP-based door entry solution to a £120 million residential development in London on a historic stretch of the Thames.
Telegraph Works in Greenwich is a landmark project that includes an 18-storey tower, three eight-storey buildings, apartment blocks and townhouses. The works are by Weston Homes and Cathedral Group, operating in a joint venture with regeneration and property developer U+I. The result has been 272 new dwellings situated in waterfront grounds reclaimed from land once used for rope-making and submarine cables.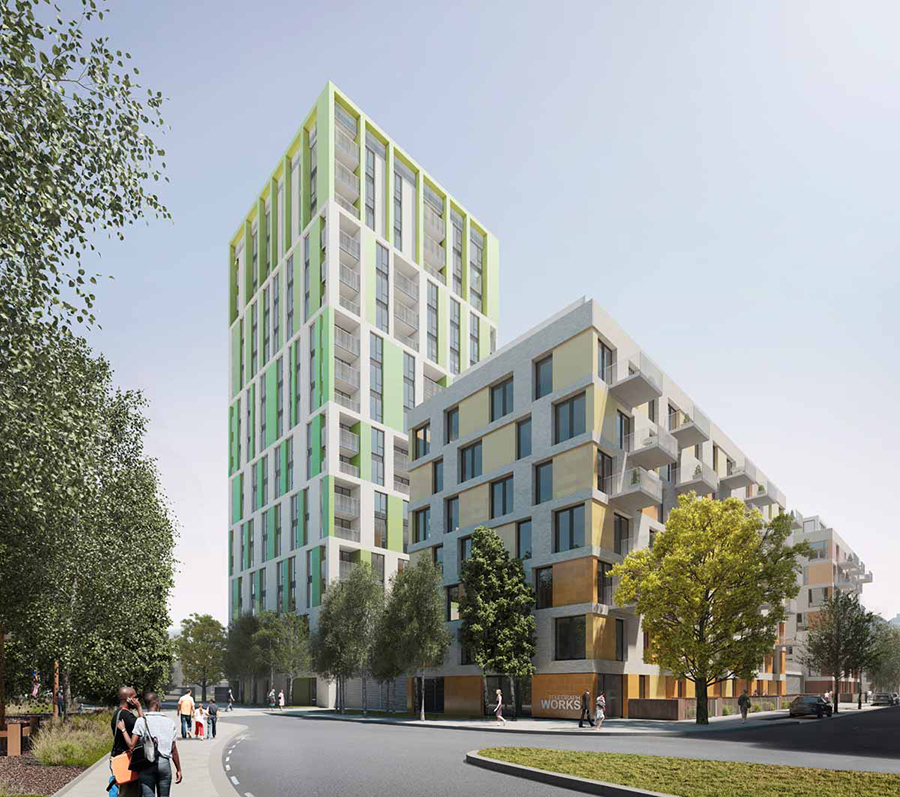 Urmet's Elekta Steel IP PoE entry panels have been fitted to eight entrance points at Telegraph Works. Elekta Steel is a vandal-resistant version of Elekta, a class-leading security solution. The unit's one-piece stainless steel body with flush moving elements reduces potential for damage by vandals or would-be intruders, as well as providing IK09 impact resistance.
The LCD colour display unit in the Elekta panels ensures easy use for callers and can also show messages. There are 16 courtyard houses at Telegraph Works across a two-acre development and, if required, the panels can show visitors their optimum walking route to their destination within the complex.
Residents touchscreens powered by Android
Residents at Telegraph Works are able to screen visitors and communicate with them using one of the 256 Urmet Max Lite IP PoE seven-inch touchscreens that have been installed across the site. The flexible platform of the touchscreen allows Urmet to work with other manufacturers to implement third-party apps that meet the precise requirements of property developers. As a tablet-style device, the touchscreen employs swipe movements familiar to any smartphone user, with a high resolution 1024 x 600 pixel 16:9 screen.
Extensive access control
Site designers at Telegraph Works have also provided additional access control for residents, property managers and approved contractors. These security measures include installation of Urmet's P60 access control readers, which grant or deny access to stairwells and corridors in the apartment buildings and tower. They can be used with all FDI-Urmet proximity cards, fobs and remotes, as well as any third-party card that employs Wiegand 13.56MHz. Custom finishes are available to meet precise design requirements and there are multicolour LEDs.
Mark Hagger, Urmet's Sales & Marketing Director, said: "The Telegraph Works buildings, with their distinctive mosaic facades, set a high premium on design. This statement was matched internally by the selection of Max touchscreens powered by Android within the apartments. The scalable nature of the iPervoice door entry and intercom suite will ensure that our products will continue to meet evolving needs as the site develops."
The architect for the project is Allford Hall Monaghan Morris, which is also responsible for another recent Urmet project, Cobalt Place in Battersea. Sales launch at Telegraph Works have begun and a quota of the homes has been made available as shared ownership for people who live or work in the Royal Borough of Greenwich. Telegraph Works is located in the south-west of Greenwich Peninsula. It features tree-lined groves, allotments and a secret garden.
There is associated landscaping, play space, commercial units and infrastructure works across this 198,000 sq ft location that was once the site of warehouses and a cable factory. The surrounding Greenwich Peninsula covers 150 acres and stretches along 1.6 miles of the Thames. £8.4 billion will be invested in the district by various stakeholders over the next 20 years.