Water-side living has many advantages, but privacy from slow-moving leisure craft is not high on the list of benefits! Our customers in Cheshire decided a privacy screen was the answer and quickly found Phantom Screens following an online search.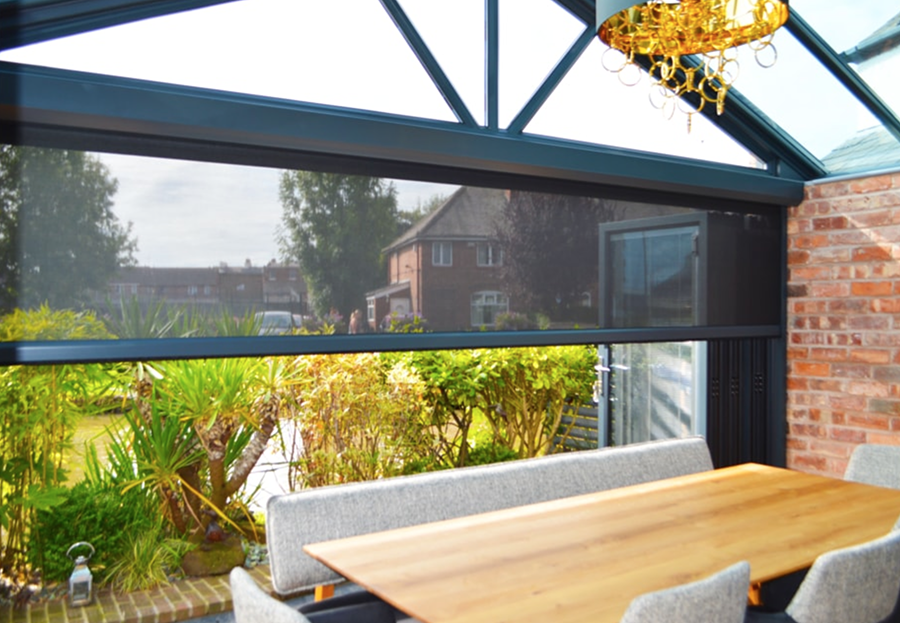 After discussion with our screen experts, a 4.2m Executive Power Screen was specified -- finished in anthracite grey to match the existing door frames and fitted with a 90% block charcoal grey mesh.

The screen helps to maintain complete anonymity without affecting views from the inside out. An internal fit ensures it works with the external folding bi-folds and the colour match means it blends seamlessly with the existing door and roof frames.

"The screen looks and feels part of the structure of the roof and door frame, no one notices it or realises it's there until we lower it."

This property mixes the contemporary with the historic; the screen solution needed to be discrete and work with the fresh new design of the extension.

"It's a great solution, it has a luxurious feel and definitely has the wow factor - we love it."

Executive Power Screens can be fitted to the interior or exterior frame or recessed depending on requirements - providing an almost invisible method of getting the best from the outdoors -- with no intrusion on architectural design or décor, and no interruption to views.

All our screens are surveyed and fitted by Phantom-trained experts. Mechanical components are covered by a lifetime warranty and they are manufactured in the UK. Find out more about Executive Power Screens or get in touch and talk to a screen expert today.