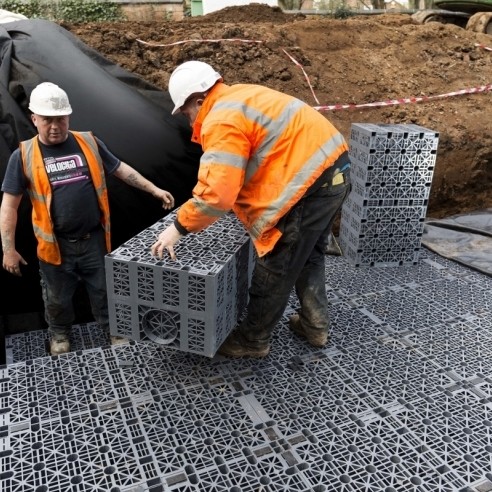 When it came to managing excessive rainfall with the creation of a soakaway at a new luxury apartment complex in Nottinghamshire, the solution lay in a geocellular stormwater management unit, AquaCell Prime from Wavin, the UK's leading manufacturer of plumbing, rainwater and drainage systems.

Built on the site of a former nursing home, the Christonian Court development in West Bridgford has been designed by CBP Architects and features 23 luxury apartments. In order to manage surface stormwater contractor D.L Rhodes & Son specified the AquaCell Prime system to help reduce the risk of flooding.

Manufactured from specially reformulated, recycled material for trafficked and deep applications, 220 AquaCell Prime units were specified below a parking area at the rear of the apartment complex in order to create a 5m x 10m x 0.8m deep cellular unit soakaway. AquaCell Prime has been specifically designed for use in areas subject to regular traffic loading such as car parks.

The units were installed at a depth of 1.8 metres, well within the gravel percolation strata. Once clipped together, the units were then tightly wrapped in a permeable geotextile therefore forming a soakaway construction

The BBA approved AquaCell system is available in a range of four units of differing strengths which include AquaCell Eco, Core, Prime and Plus which can be mixed and matched to create the optimum installation for a range of applications including landscaped or trafficked for either shallow or deep applications.

All AquaCell units have proven lateral and vertical loading performances and provide an effective answer to managing excessive rainfall. Quickly assembled on site, the individual units can simply be clipped together or for additional strength are designed so they can be laid in a 'brick bonded' formation for enhanced stability to form the required volume. Once in place, the units are then wrapped in either a geotextile sheet or geomembrane depending on the type of installation required.

As a pioneer in modular, lightweight polypropylene geocellular units, Wavin has become a leader in managing stormwater at source through efficient capture, transportation, cleansing and attenuation.

With the development set for completion in winter of 2014,Wavin's AquaCell Prime system will ensure that the residents of Christonian Court will have a proven stormwater solution, ensuring effective flood protection for the long term.