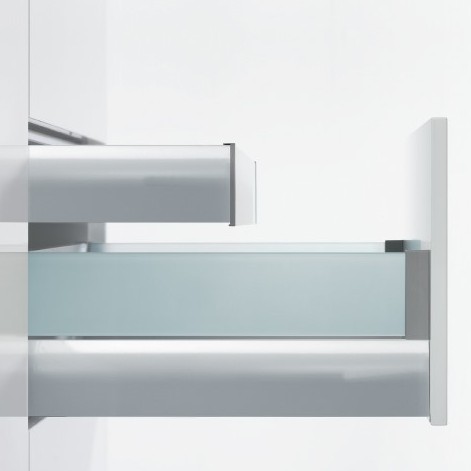 Drawing inspiration from its global experts and prominent international kitchen furniture trade shows, such as EuroCucina, leading design solutions expert Häfele UK has announced its predictions for the top kitchen products for 2014.

The Grass Nova Pro drawer system available from Häfele UK has a load capacity of up to 70kg, making it a market-leader in kitchen drawer storage. Designed with both function and fitting in mind, the Grass Nova Pro is available in several finishes including silver metallic and pure white as well as the glass sided Nova Pro Crystal drawer option.

Manufactured with the same sized base and back panel for quick production and easy installation, the Grass Nova Pro is available as a set kit, simplifying the ordering process. For handle-less kitchen designs the Grass Nova Pro comes with the option to add mechanical or electronic touch-to-open technology, including sensotronic powered open and close, which is exclusive to Häfele.

Kerry Baulch, Head of Product Management at Häfele UK said: "Our trade customers have come to expect only the best from Häfele and the Grass Nova Pro system is the latest product to feature in our outstanding range. With a contemporary look, flexible dividing and railing systems as well as smooth open and soft close function, the Grass Nova Pro makes optimum use of space and is due to be a big hit this year."

The Vauth-Sagel VSA larder unit available from Häfele UK, now with improved functionality and easier installation, is an attractive swing-out larder unit that keeps kitchen contents close to hand and fully visible.

Kerry said: "Larder units have become a contemporary kitchen staple. They look great and offer fantastic functionality and storage. Häfele UK prides itself on being at the forefront of design trends and enabling our customers to offer the latest products. The swing-out larder was really popular at EuroCucina in Milan earlier this year, replacing the current trend for pull-out larder solutions. This new design offers better access and storage, but with the same competitive pricing, so we expect kitchen studios and merchants to see a surge in demand for swing-out larder designs."

Ideal for cupboard integration and niche applications flap fittings are growing in popularity with furniture planners and designers owing to easy installation and simple adjustment. Häfele flap fittings combine modern design, elegance and flexibility and offer smooth functionality to kitchen cupboards and furniture.