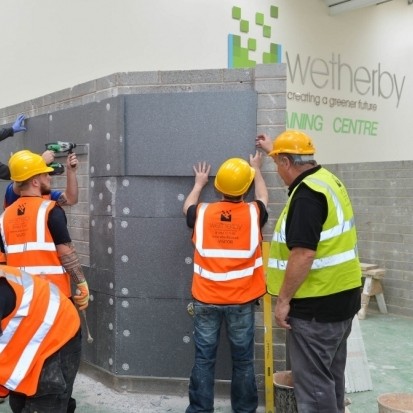 Wetherby Building Systems, the leading provider of external wall insulation (EWI) solutions, has teamed up with colleges across the country and invested more than £10,000 to provide valuable industry training, knowledge and work experience to construction students.

With a widely acknowledged skills shortage in the UK construction sector, Wetherby is committed to helping train the next generation of building professionals and equip them with relevant product and industry knowledge to help prepare them for their entrance into the industry.

Many students enrolled on construction courses are seldom made aware that the EWI industry even exists and it is often left to employers to organise the necessary training. As a result, Wetherby is working with colleges and training providers to incorporate EWI modules into plastering and brickwork courses. It is hoped the introduction of EWI components will extend students' skillset and help to educate them on all opportunities available to them.

As part of the new modules, Wetherby trainers will be visiting colleges to undertake product demonstrations and workshops, as well as providing places on its professional training courses to ensure the students have the necessary skills required for working on site.

Commenting on the new partnerships, Wetherby's training manager, Stephen Dewberry, said: "Many students are not even aware of the EWI industry and the opportunities within it and we want to help change that. The EWI sector has exploded over the last few years following the introduction of government energy efficiency schemes and despite these policies continually changing, EWI remains one of the most effective ways to improve domestic energy efficiency."

"There are still over seven million households in the UK that could benefit from EWI and so the industry needs skilled professionals to help deliver these measures. It is important that young people entering the construction industry are armed with the knowledge and skills to begin work on an EWI project and we want to help ensure as many students as possible offer this advantage to employers."

Scott Houghton, curriculum leader of Construction Studies at St Helen's College, commented: "Wetherby's involvement in our construction studies courses will be a huge benefit to our students. Not only will they be able to get a valuable insight into the industry, but they will also learn vital skills to equip them for working in the industry."

Wetherby Building Systems Ltd is the UK's market leader in the manufacture and distribution of a wide range of external wall insulation (EWI) systems, polymer modified renders, silicone & acrylic thin-coat renders & brick slip systems for the retrofit market.

Wetherby's insulated render systems offer environmentally sympathetic external façade solutions that have been successfully installed on many domestic refurbishment projects, new build schemes, commercial buildings and educational establishments for over 20 years.