Subfloor preparation products and adhesives from F. Ball and Co. Ltd. have helped deliver style and performance at the world's largest museum of design, the V&A, in Kensington, London.
Contractors from Olivers Contracts Ltd, based in Croydon, were subcontracted by MCD Heritage to install a range of floorcoverings in employee welfare areas, including changing rooms and a canteen, as well as offices and connecting corridors, as part of a refurbishment ahead of the museum reopening following the lifting of lockdown restrictions.
Upon arrival on site, contractors found that old floorcoverings had already been removed, meaning their first task was to prepare the exposed screed by removing loose materials and excess old adhesive residues.
A moisture test using a digital hygrometer indicated that subfloor relative humidity levels exceeded 90% in a small area in one of the corridors off which the locker rooms are located, meaning that the application of a waterproof surface membrane would be required here to prevent moisture attacking floorcoverings and adhesives, potentially causing floor failure. Contractors applied F. Ball's Stopgap F77 solvent-free two-part epoxy resin waterproof surface membrane, which isolates residual construction moisture or rising damp where subfloor relative humidity levels are up to 98%, with a single application.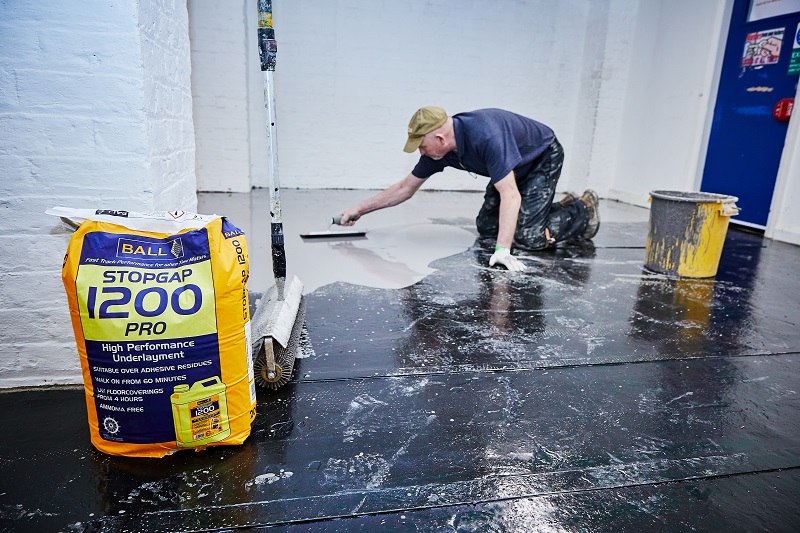 When contractors returned to complete the subfloor preparation, the area where the waterproof surface membrane had been applied was primed using F. Ball's Stopgap P141 primer, which is designed especially to promote the adhesion of levelling compounds to non-absorbent surfaces, such as waterproof surface membranes.
F. Ball's Stopgap 1200 Pro levelling compound was then applied at a thickness of 6mm in all areas to create a perfectly smooth base for floorcoverings. The product is a fast-setting, fast-drying levelling compound for preparing sound internal subfloors. It can also be applied over old adhesive residues, in which case there is no need to prime subfloors beforehand.
In the canteen dining area, endgrain wood blocks were adhered using F. Ball's Styccobond B95, a one-part, flexible, moisture-curing adhesive that is designed to accommodate the natural movement of wood over the lifetime of floorcoverings.
Bolon woven vinyl tiles were installed in locker rooms and changing rooms using Styccobond F41 carpet tile tackifier, which was also used to install carpet tiles in the offices as part of the project.
In the corridors and canteen kitchen, contractors used F. Ball's Styccobond F54 high grab linoleum adhesive to install Forbo Marmoleum sheet.
In the bathrooms, Forbo Surestep safety flooring was installed using Styccobond F46, a pressure sensitive vinyl adhesive, which provides high initial grab to hold floorcoverings in place while working and during the initial stages of drying. This work was completed by fitting Gradus capping and coving at the intersections of floorcoverings and walls using F. Ball's Styccobond F60 contact adhesive to produce a neat finish and allow for easy cleaning.
Commenting on the project, Steve Lampkin, director of Olivers Contracts, said: "Everything went according to plan, and there were zero problems or snagging issues. Fast-track products meant that work could be completed quickly, in stages, allowing access to other trades when required, so the entire project could be completed on time."