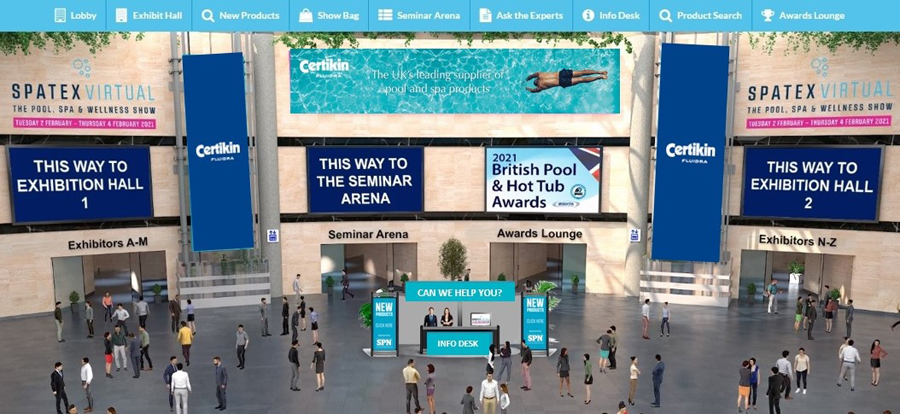 Swimming pools, spas, steam rooms, swimspas and saunas – if you're interested in water leisure in any setting, then SPATEX Virtual is the show for you. Catch it when it makes its online debut on all laptops, desktops and tablets (no webcam or Zoom required), from Tuesday 2 - Thursday 4 February.
Eight reasons to attend SPATEX Virtual
Shop Featuring the virtual booths of the world's top water leisure suppliers and installers, you can source 2021's latest models and innovations.
Source Download exhibitor's videos and brochures for the 2021 pool season and beyond. Use a virtual show bag to collect product manuals, demos, brochures, videos on your computer which you can then email to yourself or others.
Interact with exhibitors via audio, video and text message and network in group discussions. Hold one-to-one real time meetings with exhibitors.
Free expertise Experts will be manning an Ask the Experts chatroom on all three days so there's no better place to seek free impartial advice for your own project.
Discover - SPATEX Virtual will host a three-day seminar programme, covering a diverse range of current topics.
Bag a prize - Take part in the SPATEX Leaderboard. We will be selecting the individual who records the most interaction with our virtual platform. Points are accrued by visiting an exhibitor's booth, viewing a video, attending a seminar etc. It's Win-win as the prizes are stellar and, at the same time as clocking up points, you're spending time doing valuable business!
Show specials - Take advantage of discounted special deals, only available at SPATEX Virtual.
Gain inspiration - See the best of the best at the British Pool & Hot Tubs Awards on Tuesday 2 February, starting at 17.00 GMT. Enter the lobby on the SPATEX Virtual website and head for the Awards Lounge.
SPATEX Virtual Tuesday 2nd to Thursday February 4th 9.30am to 5pm. Registration is free and takes seconds click here https://spatexvirtual.vfairs.com/en/registration