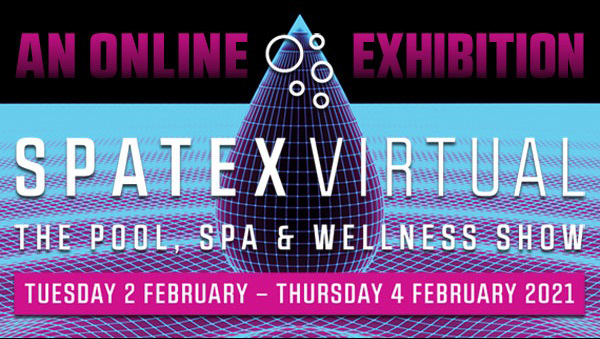 With live exhibitions cancelled for the immediate future, SPATEX will boldly go where no show has gone before! It's making its global virtual debut on all laptops, desktops and tablets (no webcam or Zoom required) from . Beam yourself up to explore and engage in 2021's fascinating new world of water leisure and seek out the next generation of products and innovations.
Why log onto SPATEX Virtual?
Engage - Make new global connections. Featuring the virtual booths of the world's top water leisure suppliers and installers you can source 2021's latest one-piece pools, spas, hot tubs, steam rooms, saunas and all associated equipment, such as tiles, chemicals, heating & ventilation.
Make Contact - Interact with international water leisure professionals and chat via audio, video and text message and network in group discussions. Hold one-to-one real time meetings with exhibitors.
Discover and assimilate - Thanks to ISPE's (Institute of Swimming Pool Engineers) skilful co-ordination, SPATEX Virtual will host an online version of its traditional programme of workshops. The STA (Swimming Teachers' Association) and PWTAG (Pool Water Treatment Advisory Group) will also be hosting sessions. Pose questions in live Q&A about your own projects or dip in and out of the talks.
Back to the future - Access to all sessions, that are streamed live, are available on-demand for 30 days after the event concludes, along with all the show's content.
The sky's the limit - The world of water leisure has never been more accessible!
A world of knowledge - Experts will be manning a chatroom so there's no better place to seek free advice for your own project.
See into the future - Download exhibitor's videos and brochures for the 2021 pool season and beyond. Use a virtual show bag to collect product manuals, demos, brochures, videos on your computer which you can then email to yourself or others.
Reach for the stars - Take part in the SPATEX Leaderboard. On each of the three days of the virtual show, we will be selecting the individual who records the most interaction with our virtual platform. Points are accrued by visiting an exhibitor's booth, viewing a video, attending a seminar etc. It's Win-win as the prizes are stellar and, at the same time as clocking up points, you're spending time doing valuable business!
Show specials - Take advantage of discounted special deals, only available at SPATEX Virtual.
New Frontiers - See the winners of the British Pool & Hot Tubs Awards on Tuesday 2 February, starting at 17.00 GMT. SPATEX is proud to be hosting the World Alliance of Pool & Spa Associations (WAPSA) meeting.
Lift off – enter the virtual lobby from Tuesday 2nd to Thursday February 4th 9.30am to 5pm.
Register here now https://spatexvirtual.vfairs.com/en/registration
Photo Credit: Niveko one-piece pool from SPATEX Virtual exhibitor, Certikin International