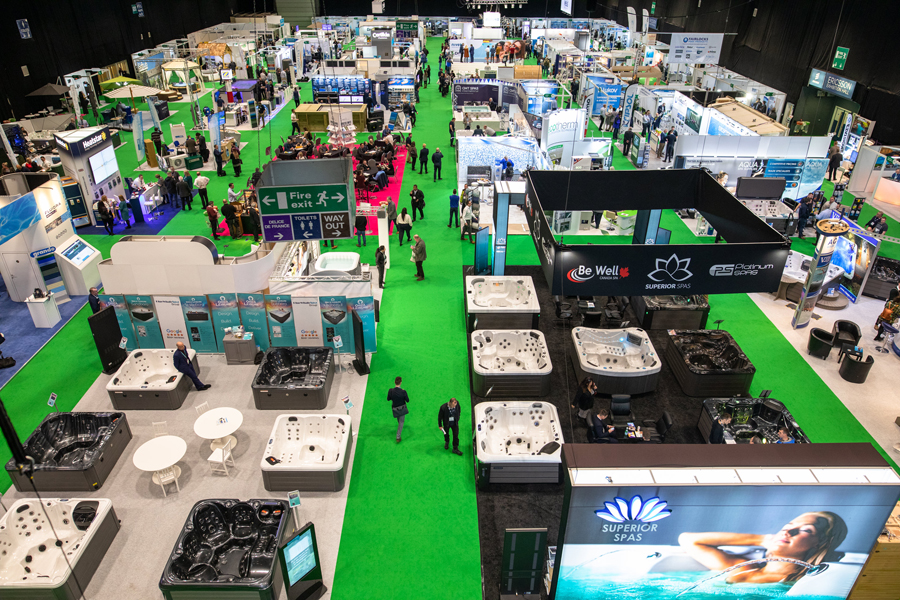 If there is one defining element of SPATEX 2020 it is the colour Green! This was the year the Show turned Green. From the bright green carpet welcoming visitors to the Ricoh Arena's Ericsson Hall to the sea of green hats at the SPATEX Networking Party. All, of course, chiming with the Exhibition's mission to promote a Greener, more environmentally friendly Industry. An endeavour that, in a year rewarded with a 3.6 per cent increase in visitor numbers (compared to 2019 stats), was well received by exhibitors and visitors alike.
Here's what was said about the Show
Chris Green – Certikin International: "We had a stand-out Show with a steady footfall throughout the three days. We look forward to returning in 2021 for another vibrant Show and to celebrate SPATEX's 25th edition."
Richard Hart – Aquawarehouse Group: "SPATEX is the highlight of our year."
Mark Osman – Heatstar: "Quality over quantity every time for us and SPATEX didn't disappoint on any front."
Paul Webb – Fairlocks Pool Products: "This Show was the best for FPP, with our increased stand size, we enjoyed lots of positive feedback from old and new."
Anthony Schneikert – Spa Solutions: "The Show has been very good and provided us with some excellent leads."
Mike Foggin – The Mosaic Spa Co: "The exhibition was a huge success for The Mosaic Spa Company with a large footfall on our stand on all three days, great feedback and a raft of new customer orders. With a busy year ahead, we look forward to SPATEX 2021."
Change begins with education
The ISPE (Institute of Swimming Pool Engineers) once again staged a fantastic programme of Workshops, many of which focused on how adopting a Greener approach can be embraced by all sectors to suit a variety of needs and applications. These, along with the inspiring and informative three-day programme of seminars in Arena 2, were extremely well attended and provided much food for thought. SPATEX gives thanks to all its speakers for imparting their knowledge and expertise, including those from PWTAG (pool Water Treatment Advisory Group), STA (Swimming Teachers' Association) and Hartpury College Animal Hydrotherapy Department. Thanks too to the 110 exhibiting companies who took the Show's message to their heart and displayed some of the world's most advanced low energy, low carbon footprint products. At times, it felt like the hall was awash with technical know-how and inspiration.
SPATEX likes to party
No ice-breaker required at SPATEX's annual Networking Party. The tried and tested formula of free delicious canapes and drinks and, of course, silly green hats went down a storm.
The SPATEX photographer was out and about capturing the event - can you spot yourself here?
The Green shoots of change
Of course, Rome wasn't built in a day and there is still an enormous amount we can all do to make our Industry more eco-efficient but the 2020 Expo put a marker in the sand. Thank you to all of SPATEX's exhibitors, visitors, media partners and speakers for lending their support and being part of this journey.
SPATEX 2020 – an excellent springboard for the Silver Anniversary!
So, it's all over for SPATEX 2020 but it heralds the start of a vibrant, upbeat year and we've much to look forward to – not least SPATEX's 25th Anniversary in 2021. Put Tuesday 2 February to Thursday 4 February in your diary! We have already been inundated with enquires from companies eager to book stands for this bumper edition so get in quick to avoid disappointment. Book your stand space NOW and catch the EARLY BUY RATE (available until Friday 1 May). Please contact the SPATEX 2021 team: helen@spatex.co.uk or michele@spatex.co.uk Tel: +44 (0) 1264 358558. For further information, please visit: www.spatex.co.uk
SPATEX 2021 Tuesday 2 February to Thursday 4 February at the Ericsson Exhibition Hall, Ricoh Arena, Coventry - easy-to-get-to, just minutes off the M6 and 2,000 free on-site car parking spaces.