With lots of fluffy feathers, long pink legs and sensitive feet, Chester Zoo's latest arrival of 21 Caribbean flamingo chicks required a floor covering for their enclosure that would be hygienic, comfortable underfoot and easy to clean.
Forbo Flooring Systems came to the rescue and supplied the UK's most visited zoo with its unique – and appropriately named – hybrid flocked flooring, Flotex.
Hatching from their shells in June, the Caribbean flamingo chicks need to be hand reared by the zookeepers until they are old enough to be transported to form part of another important breeding colony, outside of Chester Zoo.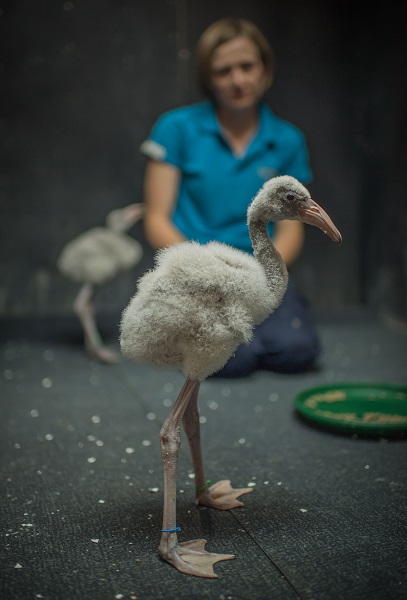 Mark Vercoe, Assistant Curator of Birds, said: "Hand-rearing young flamingo chicks is a really intricate and demanding challenge, as they are required to be fed four times a day at regular intervals and need special attention until they are around three months old.
"The chicks were placed in a specially created enclosure in a quiet and tranquil part of the zoo. We needed a floor covering that would be kind to the chicks' feet - as they are very sensitive and can get sores easily – and would also be easy to clean.
After searching the internet, we came across Forbo's Flotex flocked flooring, which ticked all of the boxes in terms of performance – and with a name that included the word 'flock' we knew we had to have it; we're delighted with our choice."
Usually, Forbo's Flotex flocked flooring range is installed in commercial interiors, such as hotels, gyms and schools, so the manufacturer was surprised to get the call from Chester Zoo, but it of course, was more than happy to help and support the development of the flamingo chicks. As such, Forbo supplied Chester Zoo with the floor covering for its specially created enclosure.
The unique construction of Flotex combines the warmth, acoustics and underfoot comfort of a textile with the durability and cleaning properties of a resilient flooring – making it ideal.
With 70 million fibres per m2, Flotex has a highly dense surface pile, which reduces the potential for soiling deposits. The upright fibres and impermeable PVC backing means that the fibres can be cleaned right down to the base. Dry soiling is also easily removed using an upright vacuum cleaner, while tougher stains and dirt can be removed with standard carpet cleaning machinery, as Clare Wylie and Wayne Mcleod, the keeper and team manager caring for the chicks found out: "We couldn't believe how easy it was to clean – and it dried quickly, which meant we could get the chicks back on it in no time," says Clare.
Mark continued: "The fact that Clare and Wayne do not have to spend a lot of time cleaning the new floor covering means that they are able to spend more time with the chicks and provide them with the attention they need.
"We think Flotex is absolutely superb, it was exactly what we needed and have been telling all our colleagues and partner zoos about it since, so I can imagine we'll be installing more of it behind the scenes at the zoo in the future."