Designed by Edinburgh-based architects Sedley Place, the £8m extension to the world famous Old Course Hotel in St Andrews features a new Kohler Waters Spa with 13 treatment rooms, a 20m indoor swimming spa pool, hydrotherapy pool, cold plunge pool, steam room and rooftop garden with hot tub.
The Knauf AQUAPANEL Indoor Ceiling System was the perfect solution for the leisure centre extension, an environment in which ceilings are exposed to large amounts of moisture, chlorine and salt.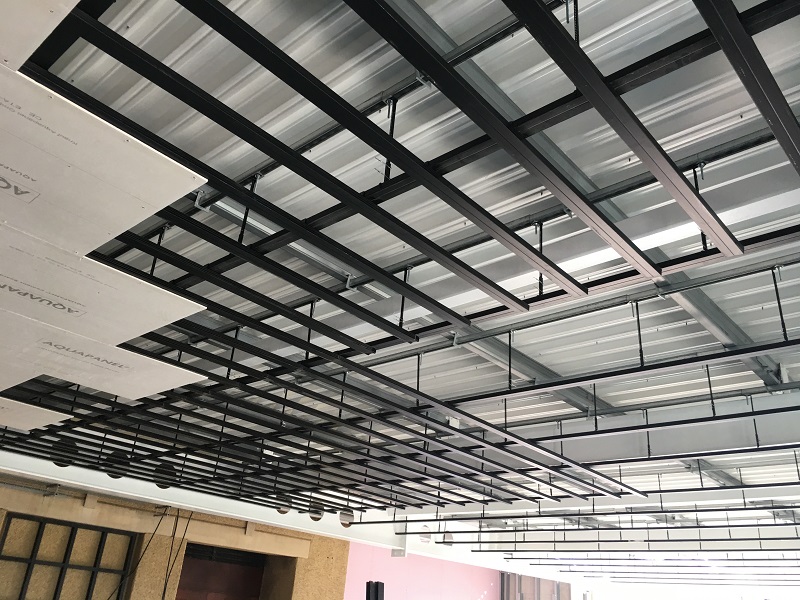 All components of the Knauf AQUAPANEL Indoor Ceiling System are engineered and tested to withstand the most challenging wet conditions.
Another product was initially specified at the outset, however the main contractor, who was experienced in using Knauf products had recommended the use of the complete Knauf AQUAPANEL Indoor Ceiling System which included the suspended Knauf C3 ceiling metal components and Knauf AQUAPANEL SkyLite.
Knauf AQUAPANEL SkyLite cement boards are lightweight 8mm cement boards which are ideal for interior ceilings in wet and humid areas. Made from water resistant and inorganic materials, the boards prevent mildew forming and spreading. The suspended ceiling structure features metal components coated to achieve a C3 class for corrosion resistance, providing protection against high humidity and chemicals.
Knauf AQUAPANEL Cement Board Indoor was also used on the walls of the Kohler Waters Spa and, as with Knauf AQUAPANEL SkyLite, it can be easily and accurately cut on site using a coarse bladed saw, or simply by scoring and snapping which allows simple and efficient installation.