Traditionally leisure centre changing rooms are uncomfortable, cramped and sweaty places, where utility rules over aesthetics and personal space.
Most visitors want to get in and out quickly. While this may still ring true for the majority of leisure centres, today's changing room has come a long way.
Supporting the raison d'être of the healthy environment is Formica Compact laminate's non porous surfacing which helps to limit the spread of microbial growth with its robust and antibacterial properties.
McAdam Design specified Formica laminate for its project at Rushcliffe Arena leisure centre, breathing new life into the facility's changing room lockers.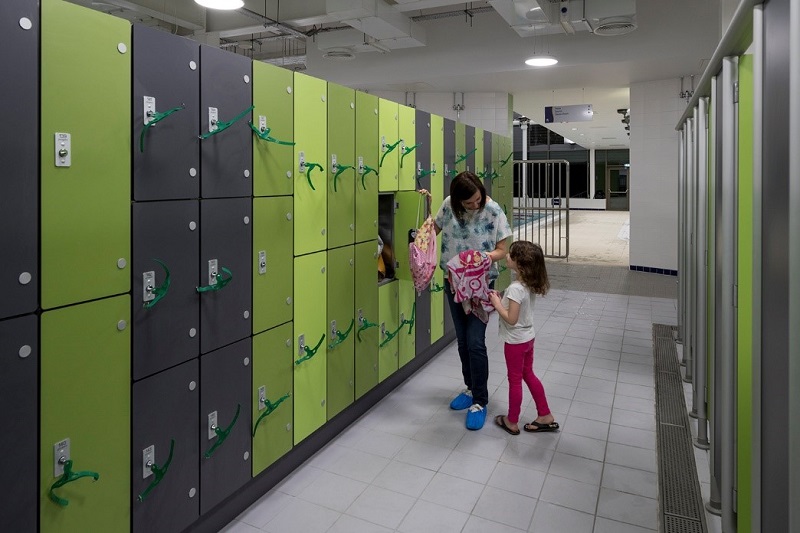 As the changing rooms are used by the centre's swimmers, the water resistant qualities of Formica compact laminate ensures the lockers are protected from the threat of damp and rot.
The selection of Leaf Green, Lime and Elegant Oak decors, offset by the grey hue of Storm, provide a biophilic association perfectly reflecting the centre's drive to improve the community's health. Studies show that biophilic design can increase a person's sense of health and wellbeing, so it's incorporation into Rushcliffe Arena makes it ideal as a place where people go to improve their fitness.
It is important that changing room facilities are durable and hygienic. Not only does Formica® Compact laminate fit the bill perfectly, but in this particular instance its aesthetics are on trend with the latest styles since Greenery was chosen as Pantone Colour of the Year 2017.
Suitable for lockers, washroom doors, cubicles and vanity units, Formica Compact is available in 2mm-20mm thickness and does not require a substrate when over 6mm thick.