Manufacturer Fabweld Steel Products has played a starring role in an important engineering project located at the heart of one of the world's most famous film festivals.
FSP has designed and manufactured replacement access covers that have been installed at the entrance to the Palais des Festivals et des Congrès Cannes in France.
The commission from civil engineers ETS Brosio was on behalf of its client, the Cannes Waste Water Syndicate.
The FAB PAVE access covers, which are infilled to blend in with the surrounding surface, allow contractors to service heavy-duty valve systems that protect the area against flooding when there is heavy rain.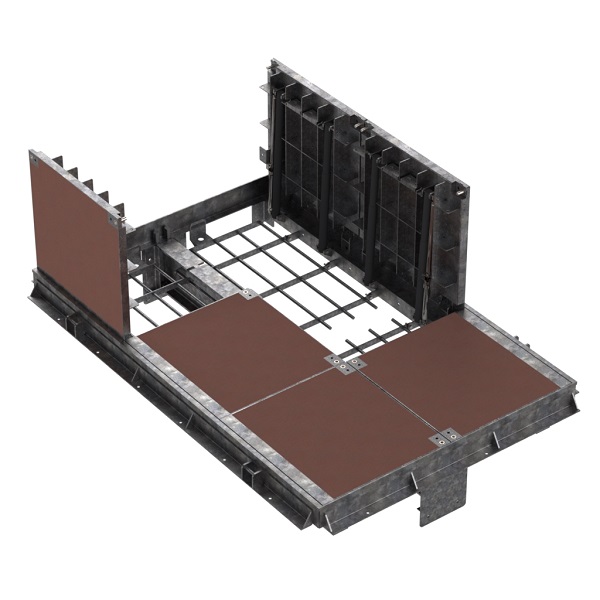 The replacement covers had to work within the existing framework and be designed for solo operation as the services underneath are accessed daily.
The covers were fabricated from mild steel and hot dip galvanised to protect them from corrosion. The access covers have to withstand a 11.5 Tonne SMWL so it was supplied with structural support steelwork to ensure it can accept heavy vehicular traffic.
The design ensured that, when the covers are hinged back, the support steelwork can be removed to give clear access for any maintenance with machinery.
Other specifications included a gasket seal to prevent ingress and egress, plus hinged safety grille and removable chain, fixed between the lids and safety grille.
FSP Managing Director Richard Hilton said: "The Cannes Film Festival is one of the biggest cultural events in the world and, outside of that, the Palais is the second busiest business tourism destinations in France.
"It was imperative that we created a solution that not only met the technical brief but provided an attractive finish. Our in-house design team worked closely with our French partners to ensure that the FAB PAVE covers we manufactured for this project ticked all the boxes."
FSP also supplied further access covers for a similar project in nearby Ecole Bocca Park and has secured an additional contract to design and manufacture five similar covers for other areas of the city.
Cannes is not the first high profile location to feature FAB PAVE access covers. They have also been used in the redesign of the ancient Elefetheria Square in Nicosia, Cyprus, and Terminal 2A – known as the Queen's Terminal - at Heathrow airport.