Water leisure is integral to a hotel's success as the King Street Townhouse in Manchester illustrates and an un-missable visit to the UK's leading pool and spa Exhibition SPATEX 2017 will show you the way forward!
Owned by the Eclectic Hotel group and opened just this year, the hotel has been shortlisted for the Greater Manchester Building of the Year award and made the Conde Nast 2016 hot list for best hotels in the world. Helping the hotel achieve such accolades is the City's first rooftop infinity spa-pool, installed by Cheshire pool specialists Swimlife UK Ltd, which overlooks the clock tower and spires of the Manchester Town Hall.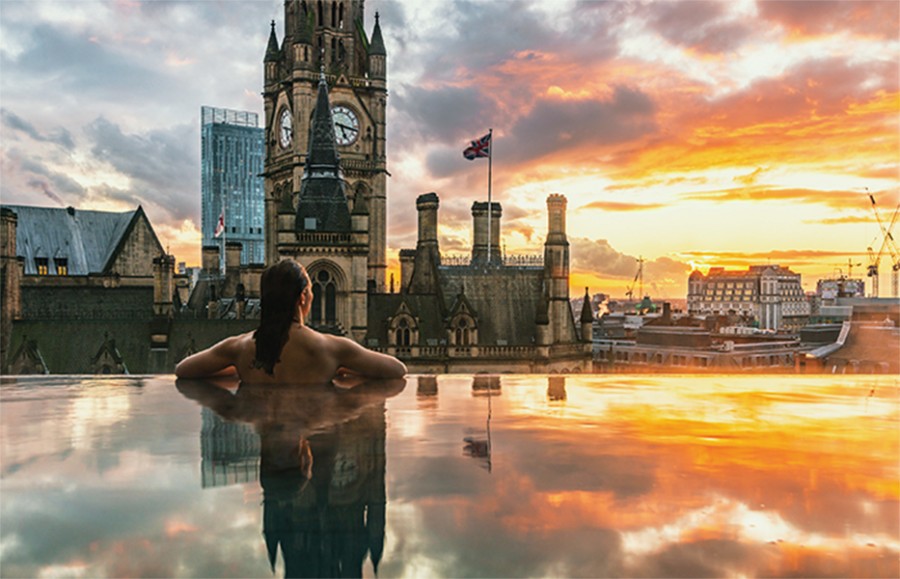 The world of water leisure is coming to Coventry's Ricoh Arena when it opens its doors to the UK's largest pool and spa show, SPATEX 2017, from Tuesday January 31st to Thursday February 2nd.
More than a hundred exhibitors will showcase all the latest products and innovations from pools and spas to pumps, filters and heating and ventilation. If you work for a hotel, leisure centre, health club, or spa, SPATEX 2017 is an event you can't afford to miss. Click here to view our extensive exhibitor list.
Not just a showcase, SPATEX offers a unique double programme of FREE educational seminars and training workshops on vital current topics. Hosted by water leisure experts and Industry trade organisations, the seminars are of particular interest to the commercial sector. Click here for the full programme.
Eamonn O'Loughlin, owner of Eclectic Hotels, said: "In today's work-centric world, people value their free time more than anything, therefore it was imperative we provided our guests with a soothing haven of serenity, relaxation and tranquil surroundings. We are proud to say the new rooftop spa does just that."
Visitor registration is FREE and SIMPLE by clicking here
Further information: contact Michele or Helen Tel: +44 (0) 1264 358558